Pleats, plaid and color at New York Fashion Week
Feb 17 - Pleats and plaid, rich colors, longer hemlines, wide-leg trousers and luxurious outerwear are some of the key trends to emerge from New York Fashion Week for fall and winter 2011, buyers and experts say.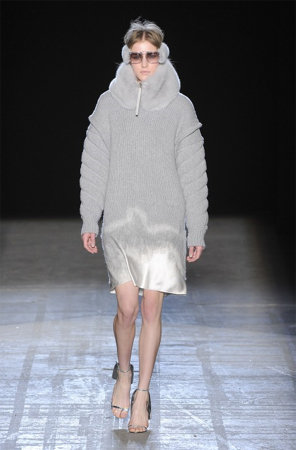 Alexander Wang - New York Fashon Week, A/W 11-12 (photo by Pixel Formula)
Many designers showed looser silhouettes, which experts say have a broader appeal because they are easier to wear, and there was an emphasis on separates, allowing wary consumers to add to their wardrobe instead of having to buy a whole new outfit.
Designers have drawn inspiration from decades past -- from the 1930s for Vera Wang's collection to the 1990s for Tibi -- and even the engagement of Britain's Prince William to Kate Middleton, says Neiman Marcus Fashion Director Ken Downing.
"There's a real nod to England, Kate Middleton is definitely in the air," Downing said. "This idea of 'Town and Country' dressing where there's a lot of tweeds, we're seeing a lot of plaids."
"Pleated skirts are a home run ... because they're figure-flattering, they're feminine, they're romantic, be it to the knee or to the floor, it's going to speak to many women," he said, adding, "I see Lurex knits as being the new sequin."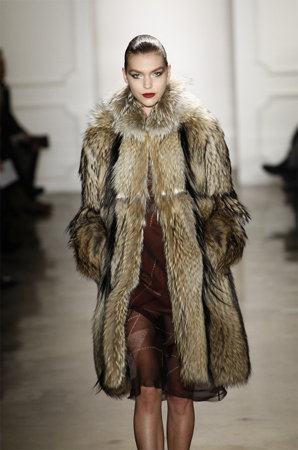 Altuzarra - New York Fashon Week, A/W 11-12 (photo by Pixel Formula)
Almost 90 designers officially showed at the biannual New York Fashion Week, which ends on Thursday and is followed by events in London, Paris and Milan. In New York, many other fashions shows were held on the fringes of the main event.
Designers and retailers are more conscious that consumers want value for money amid a tepid U.S. economy, experts said.
"Designers were and are still designing for the consumer that was in a spending cocoon," said Marshal Cohen, chief analyst for NPD Group. "Look for bright colors to compliment the wardrobe. Look for items rather than only outfits."
"Designers this year are showing product that has flare, yes flare, wider silhouettes, easier to wear and certainly more about dressing more people rather than the very small market of fashion for the fancy people," he said.
MIX AND MATCH
Amanda Brooks, Barneys New York women's fashion director, said key trends were sporty, luxurious outerwear -- as shown by designers Alexander Wang, Altuzarra, Rag & Bone, Thakoon and Narciso Rodriguez -- and chunkier knits, seen in collections by M.Patmos, Doo Ri and Prabal Gurung.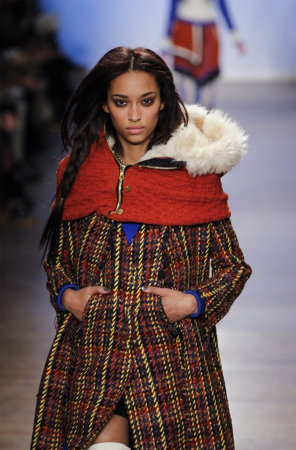 Rag & Bone - New York Fashon Week, A/W 11-12 (photo by Pixel Formula)
"The parkas, the fur or fur-trimmed coats and the knits should all be big sellers," Brooks said. "The hemline news of the season is the breakaway or cutaway, shorter in the front and longer in the back."
She said designers had put an emphasis on separates.
"It is not so much about a total look," Brooks said. "It makes the clothes easier to buy and then mix and match."
Fall and winter 2011 will also see opulent colors, likely dominated by various shades of red, but also including cobalt blue, orange and emerald green, and textured fabrics such as velvet, silk satin and metallics.
"It's more about fabric and color than it is about silhouette right now," said Robert Burke, of Robert Burke Associates, a luxury retail consulting firm.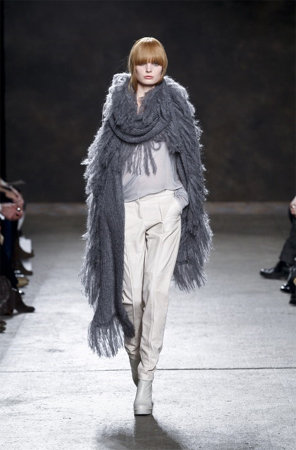 Doo Ri *- New York Fashion Week, A/W 11-12 (photo by Pixel Formula)
Americans are still wary after the worst financial crisis in decades, and retail sales, which account for about 70 percent of the U.S. economy, have not recovered as unemployment hovers at 9 percent and many struggle with household debt.
"The last two years were very challenging, but it's really caused everyone to step back and take a very long, hard look at what we're giving to the customers," Downing said. "The designers are ... really making sure that they're giving them a lot of value."
By Michelle Nichols
(Additional reporting by Ellen Wulfhorst; Editing by Mark Egan and Vicki Allen)
© Thomson Reuters 2023 All rights reserved.