Poles trickle back to reviving city
By Marynia Kruk
LODZ, Poland (Reuters) - Once a byword for poverty and post-communist racketeering, Poland's second largest city of Lodz was a place people wanted to escape. Today some are moving back, drawn by foreign investment and falling unemployment.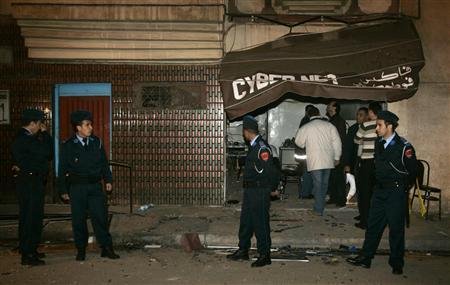 Lodz (pronounced 'Woodge') suffered more than most Polish cities after the 1989 collapse of communism. Ornate redbrick textile factories that had dominated the town for over a century fell into decay, and once-elegant apartment blocks shed masonry onto pitted streets.
"Lodz was losing people since the end of communism, but this trend has been reversed over the past couple of years," said Marzena Korostenska, a spokeswoman for city hall.
An estimated 2 million Poles have emigrated in search of better paying jobs since Poland joined the European Union in 2004, mostly to the United Kingdom, Ireland, and Spain. Some Poles feared a generation could be lost, never to return.
In Lodz today, scaffolding covers many buildings and when the screens fall away they reveal facades restored with European Union funds. You can scarcely pass a street block in the centre without seeing workers laying new sidewalks or tramway tracks.
"Over the past five years the unemployment rate in Lodz has fallen from 19 percent to 8 and this is the most significant factor keeping people in the city," Korostenska said.
City Hall and local businesses are trying to re-brand the former textiles centre as a proto-Silicon Valley and source of cheap, well-educated labor. Firms such as Proctor and Gamble, Dell, Infosys and Hilton are among foreign investors they say the city has attracted.
FACTORIES TO APARTMENTS
But changing the city's image is not easy. One incident became associated with Lodz that, for many, epitomized the anarchy that flourished in the moment when communism yielded to a "Wild East" of lawless capitalism.
In 2003, police discovered ambulance crews and funeral parlors running a scam in which paramedics were giving lethal doses of a muscle relaxant to patients on their way to hospital -- and taking a cut of their state funeral benefits.
In these dark days, unemployment shot up to more than 20 percent and Lodz lost 15 percent of its population as the impact of cheap Chinese textile imports combined with the loss of state investment.
"Two years ago people were not proud to live in Lodz, we had to sell Lodz to Poles," said Joao Xavier, Portuguese director general of Manufaktura, the shopping and entertainment centre that has emerged from the ruin of the city's most famous factory.
Procter and Gamble has invested in two factories in the Lodz area, one for Gillette razors and another for Oil of Olay skincare products, as well as a research centre and a distribution hub. It started recruiting for the Olay factory in September.
"There are young, energetic people here who are just finishing school, and we've already hired one worker who has come back from Ireland," said Renata Bogdanska, Procter and Gamble's HR specialist for Lodz.
Bogdanska said 6 percent of applications were from Poles abroad, who had joined the exodus to the West after Poland joined the EU in 2004, but who now wanted to return home.
Michael Dell, the founder of the computer maker who opened Dell's second European factory in Lodz in January, painted a similar picture of Poles returning from Ireland.
"We even have some workers in Lodz who have come from our Limerick Ireland factory and who are very happy to have come back to help set up this one," he said at the opening.
Despite emigration and recent political upheaval, Poland is one of the fastest growing economies on the continent: according to the statistics office preliminary results GDP growth in 2007 reached 6.5 percent, that is an average rate for a post-communist central European country but significantly higher than the euro-zone norm.
Slovakia, and the Baltic countries, Lithuania, Latvia and Estonia are growing faster, but some economists argue Poland's growth is more sustainable as the Baltics have higher inflation.
Combined with emigration, that boom has created a tight labor market, with wages growing 10 percent year-on-year.
NEW MIDDLE CLASS
Lodz lies in the centre of Poland and communications to Russia to the east and EU partners to the west are vital.
Plans for a 70-minute train connection to Warsaw were stalled for 10 years, but when EU money started flowing, work began to renovate the tracks.
"By April 2008, the time of a Warsaw-Lodz trip will be cut to 90 minutes from a little over two hours now, and by 2012, the trip should take 70 minutes," said Kazimierz Peryt, a spokesman for Polish Railway Lines.
House prices in Lodz have doubled over the past year and a new middle class is moving into newly built neighborhoods on what was abandoned farmland. A factory has been converted to upmarket apartments.
And Lodz, with its population of around 760,000, remains cheaper than Warsaw. Housing prices have jumped across Poland over the past four years, but both rent and purchase prices in Lodz are still about half Warsaw levels: you can still rent a one-bedroom apartment in Lodz for under 1,000 zlotys ($400).
"I'm raising a daughter on my own and need to think about the future," said Aneta Tomczyk, 30, who works in a newspaper kiosk. "Here you have stability and a steady pay-check. I'm not a student anymore and can't just up and leave for the UK."
(Editing by Ralph Boulton and Sara Ledwith)
© Thomson Reuters 2023 All rights reserved.