Proposed new law sparks rift in US fashion industry
By Mary Angela Rowe
NEW YORK (Reuters Life!) - A proposed new law that would extend copyright protection to clothing has designers in an uproar and threatens to widen a rift in the American fashion industry.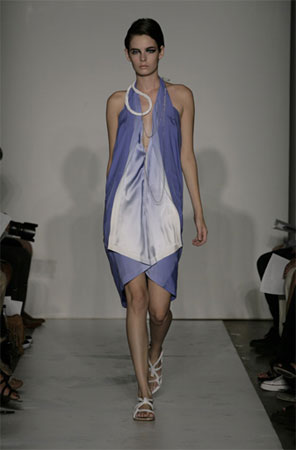 Zero + Maria Cornejo spring-summer 2009
For Maria Cornejo, whose Zero + Maria Cornejo label is a favorite of First Lady Michelle Obama, the Design Piracy Prohibition Act (DPPA) would protect her work for three years from knock-offs.
It would also put the United States on par with Europe and Japan where fashion has strong copyright protection.
Like other independent designers in America, where labels and logos are protected by trademark but clothing designs aren't, Cornejo says her work has been copied.
"We had other designers coming and shopping in our stores. I felt like crying afterwards because I knew they were buying samples (to copy)," said Cornejo.
"They're basically putting their hand in my head, which is my bank, and stealing ideas. It's basically robbery."
But Isabel Toledo, creator of Michelle Obama's inauguration outfit, fears the DPPA could widen the rift between the fashion and apparel industries - and leave consumers with fewer options.
LIMITED COPYRIGHT PROTECTION
The DPPA, which is pending in the U.S. Senate, aims to protect independent designers from companies that copy their work. If would require U.S. designers to register their designs for a fee in exchange for limited copyright protection.
In Europe, registration is not mandatory, and copyright protection can last up to 25 years.
The two most prominent U.S. fashion associations have come down on opposite sides of the bill, creating a split in the industry.
The invitation-only Council of Fashion Designers of America strongly supports the DPPA. It says the worldwide fashion counterfeit market may exceed $200 billion. Many of its members are designers whose work is vulnerable to copyists.
But the larger American Apparel and Footwear Association, which represents some of the retailers the law would impact, opposes it.
Cornejo said the law would encourage collaboration between the two sides of the clothing market. Under the DPPA, mass-market retailers would have to hire designers to consult, instead of copying, she said.
But Toledo disagrees.
"They said that manufacturers would be forced to hire us, the designers. Many of the interns I've had happen to work now for JC Penney, or the Gap -- they are designers!" she said. "What are you saying, it's a hierarchy? We're better?"
Toledo worries that the DPPA would give high fashion a monopoly on trends, making good design more expensive and reducing consumer choice.
"You're now saying that the top (designers) can own the top and the bottom levels of the market," she said.
Toledo also fears the law could hurt the independent designers it was written to protect, by making them risk expensive copyright lawsuits.
"Half these young designers can hardly pay their sewers. So you're going to take that money and go to court?" she asked.
Cornejo argues that without the law, copying will continue which will hurt the designer's business.
Not so, said Ruben Toledo, president of Isabel Toledo's label.
"The American fashion system is all levels of value," he said. "A woman knows when she's buying champagne and when she's buying soda-pop. It's two different markets. But why shouldn't a woman have the right to drink Coca-Cola when she feels like it and champagne when she wants to? That's the American way."
(Reporting by Mary Angela Rowe; editing by Patricia Reaney)
© Thomson Reuters 2023 All rights reserved.