Protests over Newmont mine resume in Peru
Foes of Newmont Mining's $4.8 billion Conga project resumed their protests in Cajamarca on Monday but turnout was weak nearly a month after the government cracked down on environmental activists it labeled as intransigent.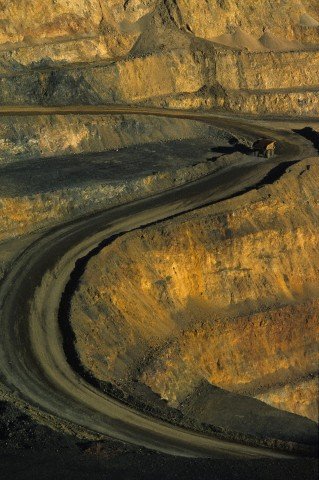 A giant gold ore hauling truck is dwarfed by the landscape at a gold mine near Cajamarca, Peru / Photo: Corbis
About 1,000 people marched in the Andean city of Cajamarca against the gold mine proposed by the U.S. miner and its Peruvian partner, Buenaventura. The government says the largest mining investment ever in Peru would generate thousands of jobs, but opponents of the project say it would hurt water supplies by replacing a string of alpine lakes with reservoirs.
President Ollanta Humala, whose term has been tested by the bitter impasse, temporarily suspended freedom of assembly last month to break up protests against the mine that drew 5,000 people onto the streets of Cajamarca.
"Our protest will be peaceful," Wilfredo Saavedra, head of the Environmental Defense Front of Cajamarca, told Reuters.
The government has been tried several tactics to eliminate opposition to the mine. Last week it promised to have the environmental remediation plan for the mine reviewed by international experts and committed to spend more money on infrastructure projects in towns near where the mine would be built.
It has also sought to demonize leaders of the protests. Peru's counterterrorism police briefly detained Saavedra last month but released him without filing any charges. A lawyer, Saavedra spent a decade in jail for belonging to the Marxist insurgency group Tupac Amaru. He later reinvented himself as an environmentalist.
Peruvian public prosecutors have also filed a lawsuit against the president of the region of Cajamarca, Gregorio Santos. The government says he has assumed powers beyond his reach by decreeing a local ordinance that forbids construction of the Conga mine. Peru's constitutional tribunal could strike down the ordinance in the coming days and rebuke Santos.
Humala, elected in June after running as a moderate leftist, shuffled his Cabinet in December to burnish his law-and-order credentials and to halt a wave of anti-mining protests that could delay $50 billion in foreign investment planned for the next decade in the sector. Critics say he has quickly drifted to the right, dashing the hopes of voters in poor provinces who expected he would usher in a period of swift change.
Newmont and Buenaventura temporarily halted work on the Conga project in early November.
Newmont has said its environment plan for the mine, which was approved a year ago by the previous government, meets the highest standards in the mining industry and would ensure year-round water supplies. It says local residents lack water during the dry season.
The standoff over Conga has challenged Humala's five-month-old presidency. He was supported largely by the rural poor in a June election and promised to hold mining companies to better social and environmental standards in a country with a 30 percent poverty rate.
Humala's popularity fell below 50 percent for the first time in his term, to 47 percent, a poll by Ipsos Apoyo showed last month.
(Reporting By Patricia Velez and Terry Wade; Editing by Marguerita Choy)
© Thomson Reuters 2023 All rights reserved.