Queen of the catwalk editors? Vogue's Anna Wintour
NEW YORK (Reuters Life!) - When it comes to swaying the followers of fashion, it's hard to fill the designer shoes of Vogue Editor-in-Chief Anna Wintour this year.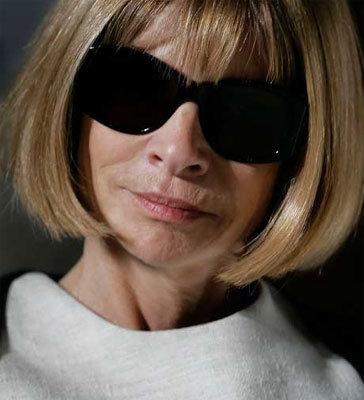 Anna Wintour - Photo : AFP
Wintour has been crowned 2009's most powerful fashion editor in America in a Forbes magazine ranking, compiled as fashion magazines battle to survive a sharp downturn in magazine advertising and the recession cuts consumer spending.
Wintour, who has an icy reputation and usually shuns interviews, has been on a media blitz to promote fashion documentary "The September Issue" by director R.J. Cutler which followed her Vogue team for almost nine months in 2007.
This publicity put Wintour, with her trademark bobbed hair and black Chanel sunglasses, a head above her rivals who sit alongside her in the critical front-row of fashion shows.
"With more media mentions and the highest year-over-year increase in circulation, there's no denying Anna Wintour has been at the forefront of the retail and fashion industry conversation over the last year," said Forbes.
Wintour, who was believed to have inspired the cut-throat editor played by Meryl Streep in the movie "The Devil Wears Prada," took first place in the annual Forbes list after coming second last year.
The Forbes list looks at which fashion magazine editor has the most sway over the fashion industry and the $200 billion U.S. clothing and accessories retail industry.
Following her down the catwalk of power in second slot was Glamour's Cindi Leive who topped the list last year after leading the magazine to its highest circulation ever and boosting Glamour.com's traffic.
In the third spot came Elle's Roberta Myers, who tied second with Wintour last year, followed by More's Leslie Jane Seymour, then Allure's Linda Wells, and then Ann Shoket from Seventeen.
Rounding out the top 10 were Marie Claire's Joanna Coles, who won praise for her initiative in appointing "Project Runway" judge Nina Garcia as a fashion director, Cosmopolitan's Kate White, In Style's Ariel Foxman, and Harper's Bazaar Glenda Bailey.
Forbes said for its list of America's most influential fashion editors it considered the top editors of every U.S. monthly magazine that features a fair amount of fashion.
The ranking was compiled by looking at monthly unique user numbers for each magazine website, advertising revenue for the first half of 2009 and the number of advertising pages compared with a year ago, and the year-over-year change in circulation.
But it also looked as how many times each editor's name was found on Google and Factiva, and this is where Wintour led the pack.
"These media mentions were particularly important in 2009, as nearly every editor on our list has pushed hard for more publicity as the economy -- and ad sales -- slipped," said Forbes.
But Wintour was deemed to have a weakness in her leadership of Vogue, a Conde Nast magazine -- her online presence.
Forbes said Style.com -- home to Vogue's online content -- saw its number of unique users in July decrease year-over-year by 9 percent to 344,189, according to Comscore.
"While Style.com is a popular site within the fashion industry, it's failed thus far to reach a mass audience," said Forbes.
(Writing by Belinda Goldsmith, Editing by Miral Fahmy)
© Thomson Reuters 2022 All rights reserved.