Rascal Flatts finds JCPenney a tailor-made partner
By Ken Tucker
NASHVILLE (Billboard) - It's more Ugg boots than cowboy boots at Rascall Flatts' February performance at New York's Madison Square Garden.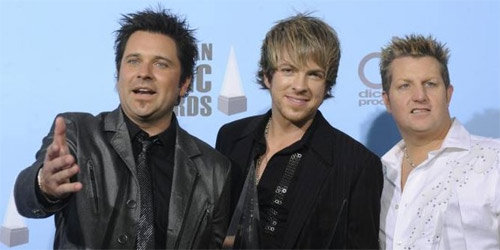 Rascal Flatts members Jay DeMarcus (L), Joe Don Rooney (C) and Gary Levox pose with their award for favorite country band, duo or group at the 2008 American Music Awards in Los Angeles
Backstage before the show, a woman in her mid-40s reaches the front of the line to meet the band and flaps her hands around her face, pretending to faint. Another woman ecstatically tells the country trio her name is Stephanie, which guitarist Joe Don Rooney converts to "Steph-Steph," making her giggle. A tottering woman approaches with pink drinks and accidentally spills Cracker Jacks all over the floor. Vocalist Gary LeVox feigns disappointments: "I would have liked some of those."
The band disappears from the meet-and-greet as Jessica Simpson finishes her opening set, and after the crowd is prepped with tracks like "Eye of the Tiger" and "Who Let the Dogs Out," there's a big bang. The trio of Rooney, LeVox and bassist Jay DeMarcus descend to the floor on an aluminum platform that billows smoke. LeVox struts around the arena-length track, bumping fists and high-fiving the men and holding the hands of women as he sings. Rooney and DeMarcus give out guitar picks like Halloween candy.
High-pitched screams drown out the opening bars of the band's cover of "Life Is a Highway" and women dance with their Budweisers thrust high in the air. "And they say New York City doesn't like country music," LeVox says to the sold-out crowd. "They must have took up all the pretty people and put 'em in one spot!"
With the April 7 release of "Unstoppable," the band's sixth studio set, Rascal Flatts is aiming to take its already strong appeal to women by teaming up with retailer JCPenney for a wide-ranging marketing and promotional deal that marks a first for the retailer. For the next two years, JCPenney will sponsor the band's tour, provide clothing for the performers, use the group's music in advertisements and play it in stores.
'UNSTOPPABLE' DEAL
"Fortunately for Rascal Flatts we have crossover music that's allowed us to play the Staples Center (in Los Angeles) and sell it out and play Madison Square Garden and sell it out, but when you get down to who the real the Rascal Flatts consumer is, it's the people between New York and L.A. -- and that's where JCPenney is," says Doug Nichols, the band's co-manager. "From a demographic standpoint it was a perfect fit."
Even in uncertain economic times, JCPenney remains one of the biggest general-merchandise retailers in the United States. There are more than 1,000 JCPenney department stores throughout the States and Puerto Rico; the business also includes one of the largest apparel and home furnishing sites on the Internet, jcp.com -- JCPenney says Internet sales totaled $1.5 billion last year -- and the brand is the nation's largest general-merchandise catalog business.
The Rascal Flatts American Living Unstoppable tour, sponsored by JCPenney, is a two-year, 60-stop trek that kicks off June 7. The agreement between the band and the retailer provides for an option to extend the deal beyond the initial two-year term.
Mike Boylson, chief marketing officer for JCPenney, says that while the company has never sponsored a tour before, "Rascal Flatts and the American Living brand is a perfect fit. They skew toward women, especially younger women, and 80 percent of our purchasers are women. We're trying to get younger women."
The band wrote a song, "American Living," that will serve as the soundtrack for a new commercial for JCPenney's lifestyle brand, which launched in 2008. In addition, the track will be available on a special version of the "Unstoppable" CD sold only at JCPenney stores, and net proceeds from the sale of the CD at the retailer will benefit JCPenney's Afterschool fund, which provides children in need with access to after-school programs.
AMERICAN TUNE
After coming up with a melody and chorus, DeMarcus and LeVox sent a demo to JCPenney. "They flipped over it," DeMarcus says. The lyrics aren't about JCPenney, but rather a slice of Americana. "They didn't want it to be about clothes," DeMarcus says. "They wanted it to be an all-encompassing theme."
The band members will wear American Living apparel in concert, and DeMarcus says he sports clothes from the line offstage as well. The band's fleet of 18 tour buses will feature imagery of the brand, and special American Living merch promoting the tour will be available for purchase. Meanwhile, a microsite that allows fans interested in learning more about Rascal Flatts and the American Living brand will launch April 1, and visitors to the site will be able to watch interviews with the band on the road and enter a sweepstakes to win concert tickets.
As for the new album, DeMarcus says that however cliche it is for a band to call its next release the best yet, he insists that "song for song, pound for pound, it's the best material we've been able to get our hands on."
The group tried to expand its sound on each album, but DeMarcus says it may have gone too far on recent records. "We felt like the past couple of records, in an effort to grow, there was a lack of holding onto some of the things that made us successful to begin with. Not that we're not proud of that material, but it was time to go back and grab hold of some of the elements that launched us and helped us become who we are."
STARTING FROM SCRATCH
Even as the current Bob That Head tour is set to wrap March 14 in Irvine, California, the band is making plans for the start of the American Living tour in June.
"There will be a new set, new set list; it's going to be all brand-new," DeMarcus says. "What we do at the end of a tour is scrap everything and start from scratch. We're going to go back to some of the big cities that we went to on the Bob That Head tour, and we feel like we owe it to the people that are paying money to come out to see us to see something totally different."
In July, the group will become the first country act to play Chicago's Wrigley Field. Two nights later, Billy Joel and Elton John will play the same venue.
Rascal Flatts hopes to take its road show to the rest of the world in 2010, with tentative plans to travel to the United Kingdom, Europe, Australia and possibly Southeast Asia.
"We want to travel overseas and try to conquer as many other countries as we can," DeMarcus says. "We haven't scratched the surface yet as far as getting our music out to the rest of the world. It's something we're going to concentrate more and more on in these next few years."
(Editing by Sheri Linden at Reuters)
(please visit our entertainment blog via www.reuters.com or on blogs.reuters.com/fanfare/)
© Thomson Reuters 2023 All rights reserved.