Reckitt sees slower growth
By Miyoung Kim
LONDON (Reuters) - Reckitt Benckiser , the world's biggest household cleaning goods group, met market forecasts with an 18 percent rise in 2007 profit but signalled slower growth this year.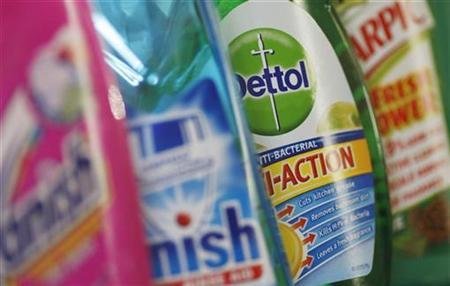 Shares in the maker of Cillit Bang cleaner, Finish/Calgonit dishwasher products and Lysol disinfectants were up 0.3 percent at 2,663 pence by 9:55 a.m. on Wednesday, having earlier fallen as much as 5.7 percent.
Reckitt, which also makes Mr. Sheen polish, Lemsip cold remedies and Disprin, set 2008 targets for net revenue growth of 6-7 percent and net profit growth of 10 percent, a slowdown from 10 percent revenue growth and 18 percent profit expansion in 2007, both at constant exchange rates.
"We had an exceptional growth last year. Right now we are seeing a very normal growth like we've experienced many years in the past ... the market growth rate is around 3-4 percent globally and we are looking for very solid growth rate this year," Chief Executive Bart Becht told reporters.
Reckitt, which had raised investor expectations by twice raising its 2007 forecasts, posted net profit of 905 million pounds, spurred by new products such as Air Wick Freshmatic, fabric cleaner Vanish, Nurofen painkillers, Strepsils throat lozenges and Clearasil acne cream.
"It is a very average set of results. Given that investors are so accustomed to Reckitt meeting or beating expectations, these results should drive some stock weakness," said Andrew Wood, an analyst at Sanford Bernstein.
Analysts also raised concerns about slowing growth in Europe, where net revenue rose by 1 percent in the fourth quarter, lagging a 9-10 percent gain in North America and developing markets.
INCREASING MARKETING SPEND
Reckitt met its target of reaching 22 percent operating margin by 2008 ahead of schedule, with the 2007 margin rising by 110 basis points to 22.6 percent, as price increases and synergy benefits from its BHI acquisition came in early and more than offset higher marketing costs.
Reckitt purchased the BHI non-prescription drugs unit of drugstore chain Boots in early 2006, adding Nurofen painkillers and Strepsils throat lozenges to its portfolio.
The company has increased media marketing by 14 percent to 12.4 percent of net revenues.
Becht said its target of 6-7 percent revenue growth would generate an operating margin expansion of at least 30-40 basis points.
"Despite increases in raw materials prices, we are still looking for gross and operating margins expansion. We'll reinvest some of the gross margin expansion in the business behind new product launches," Becht said.
The group raised the final dividend by 20 percent to 30 pence a share, said it would also return a further 300 million pounds through a share buyback in 2008.
To boost its sales in America, Reckitt purchased U.S. cough and congestion medicine group Adams for $2.3 billion last year and said results for the new business will be included from February following completion on January 30.
Reckitt has outpaced its peers due to strong innovation backed up by heavy marketing, new brand launches and revival of old names.
Its shares trade on 21 times forecast 2008 earnings, a premium to Unilever Plc/NV's 16, and Colgate-Palmolive's 19, but below cosmetics groups such as L'Oreal on 25 and Beiersdorf on 22.6.
"Sales comparatives are becoming harder and Reckitt is competing on the global stage, where competition will only intensify," Hargreaves Lansdown analyst Keith Bowman said.
(Editing by David Cowell and Quentin Bryar)
© Thomson Reuters 2023 All rights reserved.