Retail CEOs see 2011 sales uptick, with caveats
Jan 11 - Executives at top U.S. retailers expect shoppers to keep spending in 2011 like they did in the recently-ended holiday season, looking for good prices for most items and splurging only on the products they want most.

Comments by retail executives this week show that the thrift shown by consumers during the recession will remain for some time, constraining the boost consumer spending gives to the U.S. economy.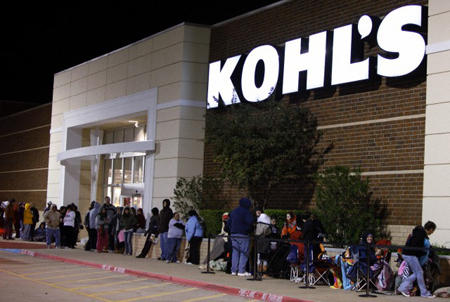 Kohl's in Texas
"Consumers are demonstrating that they are being very selective in what they're buying, but they are indeed buying," said Macy's Inc Chief Executive Terry Lundgren, one of several executives who spoke with Reuters on the sidelines of the National Retail Federation conference.
Last week, top retailers, from Kohl's Corp and Nordstrom Inc to Aeropostale and TJX Cos and Target Corp, collectively reported sales at stores open at least a year rose 3.1 percent, a good result, but slightly below Wall Street forecasts.
The healing in consumer spending, which accounts for 70 percent of U.S. gross domestic product, has been a slow process, with unemployment slipping only slightly and personal debt loads still high.
But economists and CEOs agree the recovery should pick up speed in 2011. The International Council of Shopping Centers has forecast an increase of between 3 percent and 3.5 percent in same-store sales at leading U.S. chains in 2011.
"Going into 2011, there are reasons to be upbeat: the job market is clearly improving, the stock market, credit is starting to flow a little more freely," said Moody's Analytics chief economist Mark Zandi.
Still, shoppers remain price sensitive and need to be coaxed by good deals, especially for non-essential items.
For example, J.C. Penney Co Inc reported December sales that easily surpassed Wall Street's expectations, but the department store chain had to keep prices low on many items.
"For items that are more day to day, the customers (are) still clear in their mind they don't want to overpay," Penney CEO Myron Ullman said in an interview last week.
Penney, Macy's, and Kohl's have been in a race to land as many exclusive merchandise lines as possible because that gives them more power in what to charge customers.
Members-only online shopping clubs are seeing the same thing.
"When you can offer exclusivity, the consumer is going to pay attention and will spend," said CEO Ben Fischman of RueLala, a unit of GSI Commerce Inc, which competes with the more upscale Gilt Groupe.
Heading into the holiday season, CEOs had expressed guarded optimism about retail spending's prospects. Many remain convinced that the worst economic slowdown in decades has altered shopping habits for good.
"There were some profound value changes during the recession- people aren't just indiscriminately spending anymore," said Saks Inc's CEO Steve Sadove.
Several retailers, such as Liz Claiborne and women's clothier Talbots Inc in the past week said sales in December were soft in part because of a competitive environment that forced them to slash prices.
Others in the consumer sector were more able to contend with the pressure to keep offering bargains at the end of 2010, but warned shoppers will still be discerning in 2011.
"We continue to believe that the economy is going to come back slowly in the U.S.," Sharpie-maker Newell Rubbermaid Inc's outgoing CEO Mark Ketchum said. "That has been our outlook for the last six months and nothing's changed from that."
By Phil Wahba
(Reporting by Phil Wahba; additional reporting by Dhanya Skariachan; Editing by Bernard Orr)
© Thomson Reuters 2023 All rights reserved.