Retail extends boom in Peru despite global slowdown
LIMA - Peru's decade-long economic boom has given consumers ever deeper pockets, and now that doubts over leftist President Ollanta Humala have subsided, Latin America's retail giants are expanding further.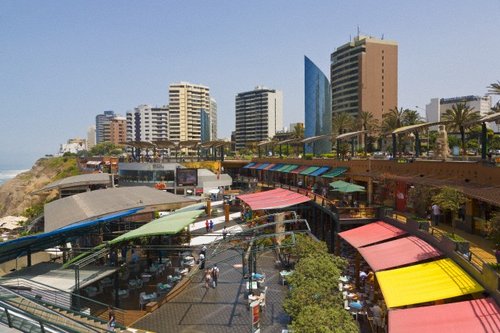 Larcomar Shopping Centre, Miraflores, Lima, Peru / Photo: Corbis
Investments of at least $1 billion to open 10 new shopping malls are planned for the next three years in Peru. Lima, the capital, is thought to have a market penetration of only 30 percent compared with 80 percent in Sao Paulo and Santiago.
There are currently 40 shopping centers in Peru, half of them built in the last 5 years, when the economy grew an average 7 percent per year.
That leaves space for new players to enter Peru, as well as for expansion by the Chilean firms Cencosud , Falabella and Ripley , which dominate today's market.
Clothing store Zara, of the Spanish textile group Inditex , plans to open in Lima by the end of the year according to local media while Falabella has said it plans to invest $200 million until 2012 to open five new stores.
In a Ripley store in Lima, taxi driver Jorge Pinedo examined dozens of offers for toaster ovens, preparing to make a second major purchase of the month without giving a thought to an ongoing global economic slowdown.
"TVs and other devices are more affordable now, in part because of access to credit," said Pinedo, in Lima's giant Megaplaza shopping center.
Consumer lending has grown over the last decade as increasingly well-capitalized banks expanded their credit portfolios.
Sales at Peruvian shopping centers grew 25 percent to $4.2 billion this year and are expected to rise an additional 10 percent in 2012, according to Peru's Association of Shopping Centers and Entertainment (ACCEP).
Cencosud's Chairman Horst Paulmann said on Thursday the Chilean firm would debut its Paris department store in Peru, with plans to open 12 stores in the next two years.
"We've got a lot to do to be No. 1 in Peru, we have many new projects and plan to open a lot of stores," Paulmann said after meeting with Peru's Prime Minister Salomon Lerner.
CONSUMER TRANSFORMATION
Paulmann's comments reflect a drastic change in consumption patterns in the Andean country. In the past six years, the number of households classified as high income in Lima has grown to 22.9 percent from 16.9 percent.
The number of houses considered low income has fallen to 44 percent from 54.5 percent, according to the ACCEP.
"There is an ongoing transition of socioeconomic levels, the middle class has grown in Peru, every day there are more consumers," said Gonzalo Ansola, head of the ACCEP.
Corporations, on the other hand, see what have been among the region's highest growth rates and lowest inflation rates as the perfect environment to open new stores.
Peru's economy, driven by mineral exports and more recently by construction and lending, recovered sharply in July and August after decelerating in previous months due to uncertainty ahead of the June 5 presidential election.
Analysts and the government predict economic growth of about 6 percent in 2010 compared to the 8.8 percent in 2011.
Humala, who had campaigned for the presidency 5 years earlier as an ally of Venezuela's socialist President Hugo Chavez, surprised investors by appointing a conservative economic team after taking office in July.
His center-left government has since attracted some $15 billion in pledged investment.
According to the International Monetary Fund, per capita GDP in Peru will grow to $5,414 by the end of this year compared to $5,196 at the end of 2010. By 2015, the figure is expected to reach $6,700.
"The higher purchasing power of consumers is growing in a dynamic, sustained way and that's why investors are looking to expand more here even in a difficult time," said Carlos Asmat, an analyst at Scotiabank in Lima.
By Omar Mariluz
© Thomson Reuters 2023 All rights reserved.