Retail sales index weakest in a year
June 24 - Retail sales showed their weakest performance for a year this month, and stores' outlook for the coming months is little better, a survey by the CBI employers' organisation showed on Wednesday.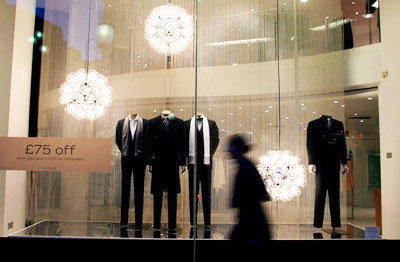 A shopper passes a window display in Regent Street - photo: corbis
The CBI distributive trades survey's June sales balance fell to a 12-month low of -2, well below both May's reading of +18 and economists' forecasts for a fall to +10.
Retailers' expected sales balance for July weakened to +2 from +14, and the less volatile three-month moving average slowed to its lowest since in a year as well.
"Consumers are really feeling the pinch as disposable incomes continue to be squeezed by rising prices and weak earnings growth," said Judith McKenna, chief financial officer at supermarket Asda and chair of the CBI distributive trades panel.
"Shoppers are budgeting hard and cutting back on their discretionary spending, such as on clothes and on big-ticket household goods," she added.
Barring a brief boost to retail sales from April's Royal Wedding, British consumer spending has been under heavy pressure this year, as rising prices for essential food and utilities and higher sales tax have cut into shoppers' disposable income.
McKenna saw little improvement, at a time when wage growth remains subdued and many public sector workers are fearful in the face of hefty government spending cuts.
"Household budgets are likely to remain tight over the coming months, with inflation edging higher as increases in domestic gas and electricity prices take effect," she said.
(Reporting by Sven Egenter, writing by David Milliken)
© Thomson Reuters 2023 All rights reserved.