Retail sales rebound, public deficit stays high
July 21 - British retail sales bounced back modestly in June from May's steep slump, doing little to allay concerns over the recovery and highlighting the uphill struggle for the government as it aims to erase a record budget deficit.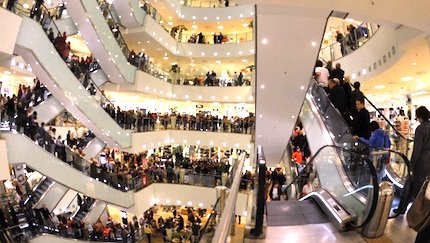 Shopping - photo: corbis
The Office for National Statistics said on Thursday sales volumes rose 0.7 percent last month, slightly more than analysts had forecast but recovering only half the previous month's drop.
"We still expect consumption to have fallen in the second quarter and a negative reading for GDP is likely too," said Hetal Mehta, economist at Daiwa Capital Markets.
Separate figures showed government borrowing held steady at 12.0 billion pounds last month, as expected. For the fiscal year so far, the government's preferred measure of borrowing, which excludes financial sector interventions, was also little changed from the same period a year ago at 39.2 billion pounds.
Britain's coalition government of Conservatives and Liberal Democrats is one year into a five-year plan to largely eliminate the country's budget deficit, which totalled more than 10 percent of GDP before they came into office in May 2010.
But the sluggish recovery has cast doubts over the government's ability to meet its goals.A slew of disappointing news has fanned speculation that the economy, which went into reverse at the end of last year, may have contracted again in the second quarter.
Britons are suffering the worst squeeze in income for 30 years on the back of soaring food and fuel prices, higher taxes and slow wage rises, and they cut back on non-essential spending.
A survey by lender Nationwide showed that consumers turned gloomier again in June. The Nationwide consumer confidence index reversed some of May's gains, dipping to 51, and remains well below its long-term average.
A survey from the CBI employers' organisation has also shown that retailers are turning more pessimistic about the outlook.
The Bank of England has warned that growth is likely to remain weak over the summer and UK finance minister George Osborne has said the euro zone's debt crisis posed an additional threat to Britain's already "tough" economic outlook.
Analysts expect the government's fiscal watchdog, the Office for Budget Responsibility, to downgrade its growth forecasts later this year and say its deficit-cutting target looks challenging.
Philip Shaw at Investec said the borrowing figures were slightly disappointing, even taking into account the boost to revenues last year from the bank bonus tax.
The government insisted that its plan to cut borrowing to 122 billion pounds for the full-year remained on track.
By Sven Egenter and Christina Fincher
© Thomson Reuters 2023 All rights reserved.