Retail sales rise more than expected
LONDON (Reuters) - Retail sales rose much more than expected in April with most sectors doing well, official data showed on Thursday 21 May, suggesting that consumer spending is holding up despite the recession.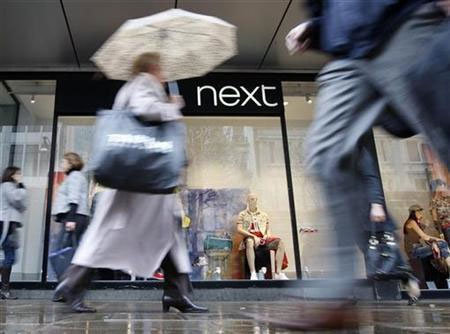 Photo: REUTERS/Stephen Hird
However, bank lending and business investment fell in a sign that recovery remains some way off and government borrowing hit a record high for the month of April -- the first month of the new tax year -- as the recession batters the public finances.
The Office for National Statistics said retail sales volumes rose 0.9 percent last month, nearly double analysts' forecasts of a 0.5 percent gain. In March, sales rose 1.1 percent.
On the year, sales rose 2.6 percent in April after a 0.9 percent gain in March, the strongest since January.
Some analysts were still sceptical about the data following widespread methodological changes to the series. These have led to substantial revisions after criticism that the figures did not tally with other survey evidence.
"Even with the new method they seem to be throwing up figures which many people feel may be on the firm side of what they would expect," said Stephen Lewis, chief economist at Monument Securities.
Financial markets showed little reaction to the data as they were more focussed on a revision to Britain's credit rating outlook by ratings agency Standard & Poors' to negative from stable which caused a sharp slide in the pound and gilts.
BORROWING BALLOONS
The ONS said public sector net borrowing hit 8.468 billion pounds in April, compared with 1.836 billion pounds in the same month a year ago. That was a record for the month of April but roughly in line with expectations.
The public sector net cash requirement came in at 5.151 billion pounds, also an April record and versus a surplus of 2.884 billion pounds in the same month last year.
The ONS retail data showed most sectors, especially department stores, performing well. Non-specialised store sales rose 3.5 percent on the month, the highest since July 2006.
"We remain doubtful that this is the start of a sharp or sustained consumer recovery," said Vicky Redwood, an economist at Capital Economics.
Retailers have been cutting jobs to survive the downturn but there have been some signs that Britain's recession could be easing after the economy shrank 1.9 percent in the first three months of the year -- the sharpest drop since 1979.
This week, clothing, food and homewares seller Marks & Spencer said it was hopeful weakness in its markets had bottomed out but many retailers are preparing for a lengthy battle against the downturn.
Most economists think Britain will remain in the doldrums until next year and they expect no revision to the second estimate of first quarter GDP, which is due on Friday 22 May.
Bank lending is seen as crucial to kickstarting growth. The government has poured billions into propping up banks in the hope that credit will flow again, but a lending survey by the Bank of England on Thursday 21 May made gloomy reading.
The Bank said major UK lenders actually cut lending to companies and homebuyers in April compared with March.
Figures from the ONS showed business investment in Britain fell 5.5 percent on the quarter in the first three months of 2009. On the year, investment fell 6.8 percent.
"Sustained sharp drops in business investment would have very serious negative repercussions for future UK productive capacity and productivity," said Howard Archer, an economist at Global Insight.
By Matt Falloon and Sumeet Desai
© Thomson Reuters 2023 All rights reserved.