Retail sales rise unexpectedly but trend weak
Mar 30 - Retail sales growth picked up unexpectdly in March, but the underlying trend for sales remained weak, a survey by the Confederation of British Industry showed on Wednesday.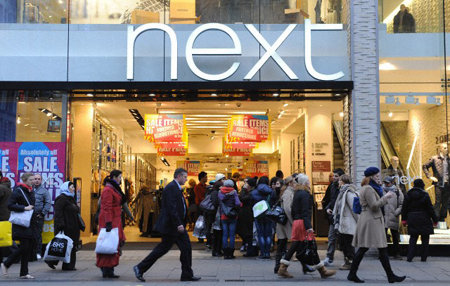 Pedestrians walk past a UK clothes retailer 'Next' store in central London.
The CBI distributive trades survey's sales balance rose to +15 in March from +6 in February. Analysts had forecast a reading of zero.
And retailers expected a modest improvement in April, with an expected sales balance of +18.
However, retail sales in the three months to March grew at their slowest pace since July 2010, suggesting that underlying demand remains weak.
"Sales growth picked up slightly for retailers compared with last month, but look beneath the surface and conditions remain tough on the High Street," said CBI chief economic advisor Ian McCafferty.
"With inflation edging higher and earnings growth only modest, household budgets are under increasing pressure and consumer demand will remain weak in the coming months," he added.
Soaring prices have hit consumers' purchasing power this year, causing retail sales volumes to crumble, according to official data last week.
Figures on Tuesday showed Britons suffered the sharpest fall in their disposable income in 30 years in 2010, and with wages rising at less than half the rate of inflation and big public spending cuts and tax rises still to come, household budgets are likely to be squeezed even more.
The CBI said nine of the 13 retailing sub-sectors saw an increase in year-on-year sales growth in March. However, sales in the grocery sector rose at its slowest pace in two years and growth in clothing sales also slowed. The home improvement and durable goods sectors continued to see falling sales.
(Reporting by Christina Fincher)
© Thomson Reuters 2023 All rights reserved.