Retail sales sizzle in June heatwave
LONDON (Reuters) - Retail sales jumped at three times the rate analysts expected last month as hot weather and early summer discounting boosted sales of clothes, official data showed on Thursday 23 July.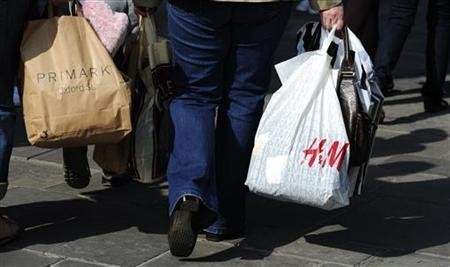 Separate figures from the British Bankers Association showed mortgage approvals rose in June to their highest level in over year, providing further evidence the economy is emerging from recession.
Sterling rose and gilts fell on the data as investors bet the Bank of England may decide no further relaxation of monetary policy is needed.
But retail sales figures have been notoriously volatile and analysts said the data should be treated with caution.
"No one should take too much comfort from today's figures. Household retrenchment has a way to run yet, especially with unemployment rising," said Colin Ellis, European economist at Daiwa.
The Office for National Statistics said sales volumes rose 1.2 percent last month, above all forecasts in a Reuters poll and more than reversing a 0.9 percent fall in May. The annual rate picked up to 2.9 percent, its strongest this year.
Retail companies also provided upbeat figures on Thursday 23 July.
Kingfisher, Europe's biggest home improvements retailer, posted better-than-expected second-quarter sales, dispelling some of the gloom that has surrounded the sector.
British telecoms and retail group Carphone Warehouse also struck a positive note, beating revenue forecasts and saying it was optimistic consumer markets would not suffer a fresh downturn.
CLOTHING BOOST
Clothing sales were one of the main drivers of last month's increase. Textile, clothing and footwear sales rose by 4.7 percent on the month, the biggest gain since January.
Retailers bringing forward summer sales may have also played a part, with prices in that sector on average 6.7 percent lower than a year ago.
Overall, prices in the retail sector were on average 0.2 percent lower on the year, the first drop since January.
Britain's economy contracted by 2.4 percent in the first quarter of the year -- its sharpest drop since 1958 -- but the recession has shown signs of bottoming out in recent months.
Second quarter figures, due on Friday 24 July, are forecast to show a much more modest contraction of 0.3 percent, according to a Reuters poll.
Retail sales account for around 40 percent of consumer spending and analysts said June's surprisingly strong reading could boost Friday (24 July)'s GDP figure.
"This could present an upside risk to our GDP forecast," said George Buckley at Deutsche Bank.
"It's not the first time retail sales have been stronger than expected, and it is worth noting that sales have risen 1 percent month-on-month or more for three out of the past four months now."
The Bank of England cut interest rates to a record low 0.5 percent earlier this year and embarked on an unprecedented policy to pump 125 billion pounds into the economy by buying assets.
It surprised markets last month by not extending its asset buying programme and slowing its gilt purchases. The programme is due to end later this month and investors are awaiting the Bank's meeting early next month for clues on future policy.
(By Christina Fincher and Sumeet Desai. Editing by Mike Peacock)
© Thomson Reuters 2023 All rights reserved.