Retailers cautious after cut-price Christmas
LONDON - The economy risks contraction in the first half of 2012 and better-than-expected retail sales over Christmas are unlikely to offer much respite, as shoppers were only lured by margin-eroding discounts, business leaders warned on Tuesday.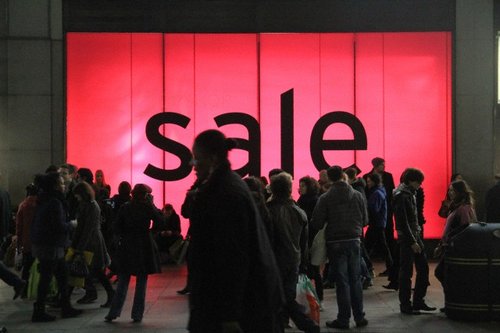 Shoppers filled central London's Oxford Street for bargains, with most retailers offering record discounts. United Kingdom. 27th December 2011 / Photo: Corbis
A survey from the British Chambers of Commerce showed the economy was "very likely" to contract in the first half of 2012 after stagnating in last year's final quarter due to the euro zone debt crisis.
"Today's surveys suggest the UK economy is roughly stagnant in early 2012," said Citi analyst Michael Saunders. "A quarter or two of negative growth is certainly possible but at this stage surveys do not really signal a major renewed recession."
The prognosis came as another survey said British house prices were continuing to fall, while retail industry group the British Retail Consortium said December retail sales rose a stronger-than-expected 2.2 percent -- but added the figures were flattered by weak business a year earlier when heavy snow hit sales and warned discounting could hit store profits.
"Sadly no-one expects this level of demand to be indicative of the year ahead," said Helen Dickinson, head of retail at accountants KPMG.
Bellwether stores group Marks & Spencer Plc posted a 0.5 percent rise in underlying British sales in the 13 weeks ended December 31, with customers staying-in and treating themselves to party food driving a 3 percent rise in food sales, sending its shares 3 percent higher.
"M&S performed well in a challenging trading environment," said Chief Executive Marc Bolland.
However, its sales of clothing and homewares fell 1.8 percent, despite a change in strategy which involved a raft of "25 percent off" pre-Christmas promotions to stimulate trade in unusually mild weather.
The discounting meant that to offset the impact on profit margins and meet its expectations for 2011-12 profit the 128-year-old group was having to find extra cost savings. Analysts now expect the full-year gross margin to fall about 40 basis points.
Department stores group Debenhams Plc reported better-than-expected flat underlying sales over the 18 weeks to January 7, sending its shares 10 percent higher.
"2011 was my 36th Christmas as a retailer and it's no exaggeration to say that it was probably the most difficult of all I've traded to call," said CEO Michael Sharp.
Britain's retailers are mostly struggling as disposable incomes are squeezed by rising prices, muted wages growth and austerity measures, and as shoppers worry about a weak housing market, rising unemployment and the euro zone crisis.
2012 OUTLOOK BLEAK
With the 2012 outlook bleak, hedge funds looking for profits are circling many of Britain's quoted store groups, and fears are growing of a wave of retail failures equivalent to that which saw Woolworths go under in 2008-9.
Already this week outdoor goods group Blacks Leisure and lingerie chain La Senza UK have fallen into administration and fears over the future of video games retailer Game rose after it posted a slump in Christmas sales and warned it may breach the terms of its loans.
Homewares group Dunelm posted a 1.1 percent rise in underlying sales for the 26 weeks to December 31, while flooring specialist Topps Tiles said its underlying sales fell 4.2 percent in its last 13 week trading period.
British wine warehouse chain Majestic Wine bucked the trend with a 4 percent rise in underlying sales for the nine weeks to January 2, while the Co-operative Group saw total sales rise 3.1 percent in the four weeks to December 31.
Retailers are hoping that falling inflation and events like the Olympics and Paralympic Games, the Queen's Diamond Jubilee, Wimbledon and the Euro 2012 soccer championships will boost demand in the months ahead.
"I'm a glass half-full man for the summer," said Bolland.
"There's no country in the world that has five of these events in two and a half months so let's be a bit positive about that. The consumer tells us that they're looking forward to that type of summer."
However, the industry is mindful that strong demand around a royal wedding in 2011 did not provide a lasting boost. Grocer Wm Morrison and home shopping group Shop Direct both forecast a tougher 2012 on Monday.

By James Davey and Mark Potter

(Additional reporting by David Milliken, Kate Holton and Paul Hoskins; Editing by Jon Loades-Carter and Helen Massy-Beresford)
© Thomson Reuters 2023 All rights reserved.