Retailers considering crunch by the London catwalks
By Paul Casciato
LONDON (Reuters) - The catwalks are humming and buyers are still trawling the stands at London Fashion Week, but behind the scenes luxury clothing retailers are considering the knock-on effects of a global financial crisis.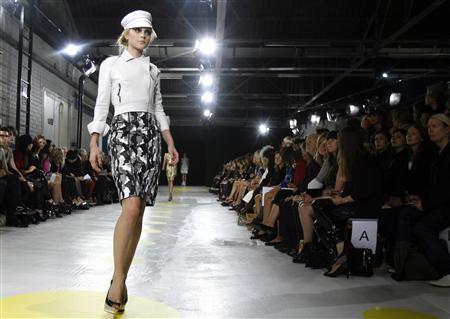 President and CEO of Aquascutum Kim Winser told Reuters an economic downturn resulting from the credit crunch -- which claimed major global investment bank Lehman Brothers this week -- could split the retail market.
"I think at the top end it's continuing to do well so long as the product is strong enough and it's interesting enough," Winser said after Aquascutum's show on Tuesday, where white, delphinium blue, lightweight silk and patchwork wafted down the catwalk.
"I think at the bottom end probably business is going to do quite well because some people are going to be in a very difficult situation. Probably the middle is going to hurt a great deal."
Winser is in the midst of a five-year turnaround strategy for the 155-year-old British brand, owned by Japanese apparel maker Renown, which includes deals with luxury U.S. retailers Bloomingdale's, Saks and Bergdorf Goodman as well as markets in Russia and the Middle East.
High-end British luxury retailers such as Aquascutum, privately owned Jaeger and publicly traded Burberry are banking on their heritage, alluring collections and international clientele to keep sales buoyant.
"We're not immune because we've got 70-odd shops across the UK," Jaeger Chief Executive Belinda Earl told Reuters after a show that tapped its 124-year-old archives with a display of color and prints mixing floaty pieces with tailoring.
"But we do know that when the customer loves something, as we've seen with our autumn collection, she is wanting it."
CONSUMER SPENDING SLOWDOWN
Mid-market British department store groups John Lewis, which launched its biggest fashion campaign this month, and Debenhams have said they are taking market share in clothing, as demand for branded fashion holds up.
Debenhams said its sales performance and market share gains suggested that it had not seen a squeeze in the middle of the market, pointing to an 8 percent year on year rise in its Designers at Debenhams range.
"We would disagree with the assumption that the middle market, from a Debenhams point of view, will be squeezed," Debenhams said in an emailed statement.
However, high street rival Next Plc, Britain's second-biggest clothing retailer, reported a 12 percent fall in first-half profits last week, with like-for-like full-price sales falling 6 percent.
Results from discount British retail chain Primark also appeared to support the view that customers were seeking better bargains to help them through bad times when it reported a 4 percent rise last week in its fourth-quarter sales at shops open more than a year, bouncing back from a flat third-quarter.
Results and trading updates over the past few days, and a continued slowdown in consumer spending as shoppers react to higher food and fuel bills and sliding house prices, suggest things may get worse before they get better.
British Fashion Council Chairman Harold Tillman told Reuters in an interview on Wednesday that whatever the fallout from the credit crunch the entire industry would be assessing its position as the downturn begins to hit consumers harder.
"In the broader spectrum no one can escape that there is a downturn ... we are talking about multi-billion pound businesses that cannot escape the fact that there is less spending power."
(Additional reporting by Cindy Martin)
© Thomson Reuters 2023 All rights reserved.