Retailers launch sales to kick-start Christmas
LONDON (Reuters) - Marks & Spencer and Debenhams, two of the country's biggest retailers, will this week hold pre-Christmas sales to stimulate trade after a tough October.
A spokesman for M&S, the largest clothing retailer, said the group will on Thursday hold a one-day "20 percent off" sale, offering the reduction on clothing, homewares and wine.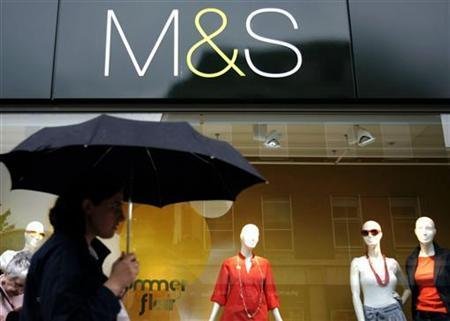 Its sale will coincide with Debenhams' planned annual three-day "Christmas Shopping Spectacular." This starts on Wednesday with prices on most products reduced by 20 percent to 25 percent.
Analysts said Philip Green's Bhs department store and mainstream parts of his Arcadia fashion group, such as Dorothy Perkins and Burton are also planning sale activity this week.
News of the sales came as struggling sweets-to-CDs retailer Woolworths said it was in early-stage talks about a possible sale of its retail business.
Retailers have typically waited until after the key Christmas trading period before launching sales, although Debenhams has previously run pre-Christmas events. Many retailers are struggling as consumers cut back on spending or turn to discounters amid rising unemployment and falling house prices as the country enters recession.
Nick Bubb, analyst at Pali International, said the M&S sale was an unplanned promotion in response to disappointing October sales.
"It will hurt margin," he said. "M&S did say that they reserved the right to promote tactically pre-Christmas and there could be some slippage in margin, so it's kind of allowed for in margin assumptions."
Bubb said the last two weeks for M&S had been "terrible" with a poor economic climate aggravated by mild weather.
He estimated M&S' like-for-like sales were down 15 percent to 20 percent last week, in line with poor figures from the John Lewis Partnership, which is seen as a barometer of retail spending.
Debenhams Chief Executive Rob Templeman said late on Tuesday he was expecting this Christmas to be more competitive than 2007.
"Do I think Christmas is going to be better than the year before, no I don't," he said at the retailer's spring/summer fashion press show.
"Although we've brought our stocks down I don't think the high street has brought stocks down enough," he said.
Templeman's major concern is the impact of increasing unemployment on consumer behaviour.
"My worry is unemployment, I think it's going to get significantly worse. It's forecast to be 3 million next year, I wouldn't be surprised if it's more than that," he said.
At 9:48 a.m. shares in M&S were down 3.8 percent, at 203.25 pence, Debenhams was down 0.9 percent at 28 pence, and Woolworths was down 21.3 percent, at 3.79 pence.
(Reporting by James Davey; Editing by Erica Billingham)
© Thomson Reuters 2023 All rights reserved.