Retailers say need to win trust, innovate
Mar 14 - Retailers must gain and retain the trust of consumers, innovate and cut costs if they want to prosper after the recession, leaders of the country's top store groups said on Wednesday.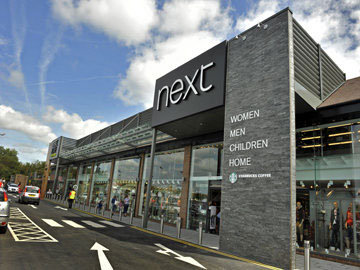 Next (Photo: Corbis)
"Retailers are going to have to face a new reality, there's going to be no help from the government... We all have to start focusing on driving costs out of the business and investing those savings into giving the customer a better experience," Peter Marks, Chief Executive of The Co-operative Group, said at the annual Retail Week conference.
"The credit crunch, the national crisis, the way the big banks behaved has destroyed a lot of trust in the PLC business model and customers now are searching for trust," he said.
Charlie Mayfield, chairman of the John Lewis PartnershipJLP.UL (BB90_p.L), owner of the country's biggest department store operator and the upmarket Waitrose supermarket chain, said the recession, globalisation and technological advances meant the UK retail market was changing "in a profound and fundamental way".
Store groups needed to recognise this and respond with more imaginative product design and sourcing.
"Retailers who really make a point of developing those capabilities will end up with a huge advantage over retailers who do not, who may well find that what they're having to do is compete more in a market which is increasingly commoditised by the ability of shoppers to shop pretty much anywhere," he said.
Alex Gourlay, Chief Executive of Alliance Boots' ABN.ULhealth and beauty business, said more so than ever the balance of power had shifted to the consumer.
"The customer is now absolutely in charge of who they shop with, what they buy, how much they pay for it and who they trust, like never before," he said.
"There's an enormous opportunity for businesses who understand these changes."
Many British retailers are struggling as consumers grapple with inflation, muted wage growth, government austerity measures, worries about job security, a stagnant housing market and the impact of the euro zone debt crisis. The lack of consumption has been one of the main drags on economic growth.
While an industry survey last week said retail sales remained sluggish in February, latest official data showed they rose in January. That data, a string of promising business surveys and stabilisation in the labour market have raised hopes of recovery in 2012.
John Lewis' Mayfield reckons UK consumer sentiment will improve through the course of this year, boosted by a roster of major summer events.
But he expressed concern about a growing "space bubble" in the grocery sector.
"If you look at how much space is planned to open in the grocery sector over the next period you need to see increasing consumption of something in the order of 20 billion pounds in order for that space to achieve similar sales densities to what it achieves now," he said.
"I can't see that kind of increase in consumption taking place."

(Editing by Mike Nesbit)
© Thomson Reuters 2022 All rights reserved.