Retailers to be tested by high commodity costs
Jan 13 - U.S. retailers face a test of the strength of their brands and their clout with vendors this year as they grapple with rising costs on everything from cotton to raw leather to copper to crude oil.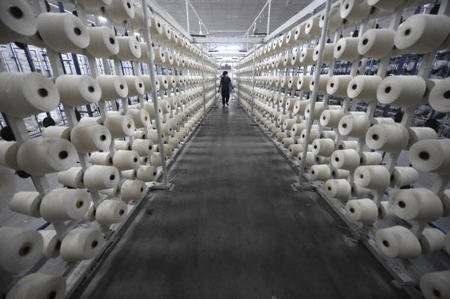 Cotton factory in China
Prices of raw materials have spiked sharply -- cotton prices increased 89.8 percent in 2010 --and manufacturing wages in China are climbing. That is forcing top retailers to try everything from wresting concessions from suppliers to adjusting the quality of goods, so that they don't have to raise prices and risk the loss of business.
It's never as simple as "'big increase in material costs, big increase to consumers,' because we can't afford to pass that on like that," Ian Cheshire, chief executive of Kingfisher, Europe's biggest home improvement retailer, told Reuters at the National Retail Federation conference in New York.
Others are using the sheer volume of what they order from vendors to wring price concessions.
"We're going to work very hard with our buying power and size to negotiate the best possible pricing, but there will be some inflation for sure," Macy's Inc CEO Terry Lundgren said.
Goldman Sachs said in research note this week that retailers could begin raising prices as early as February 1, and most analysts expect to see an effect on gross margins by the second half of 2011.
Many retailers enjoyed strong margin growth in 2010 as they cut costs and managed lean inventories. But rising commodity costs threaten to hurt those gains.
To cope with this threat, some store chains are asking vendors to modify the quality of products, such as using a lower thread count for bed linens.
Some, such as Kingfisher, have also been moving some manufacturing to locations such Vietnam and India to become less dependent on China.
"We think there is still a long way to go on the sourcing agenda. So we are not exposed as maybe some other retailers are," Kingfisher's Cheshire said.
TOUGH GOING
Other chains might have a particularly tough time of it, especially smaller ones that have little sway with suppliers, or those selling basic or undistinguished goods and catering more to mass markets. Retailers that focus on teen shoppers are also at great risk, given how much cotton goes into the t-shirts and jeans that youngsters favor.
"For basic staples like underwear and t-shirts, you will have no pricing power," said Walter Stackow, analyst at Manning & Napier, which owns shares of U.S. retailers Nordstrom Inc and Kohl's Corp.
Michael Koskuba, a senior portfolio manager at Victory Capital Management, said that discount retailer Target Corp, in which his firm owns shares, has the clout, as well as the diverse merchandise assortment, to manage price pressures.
Along with higher-end retailers, companies that make and sell in-demand brands also have pricing power and are better positioned to pass along higher costs, analysts said. Examples are UGGs boots from Deckers Outdoor Corp and yoga-wear from Lululemon Athletica Inc.
"The retailers have seen this coming ... Those who don't adjust well will have some explaining to do," Stackow said.
But others like Moody's Analytics chief economist Mark Zandi said the magnitude of the rise caught the industry by surprise.
"Everyone thought they would rise, but not surge like they did," Zandi said.
Even if they manage to avoid huge price increases in the next six months, retailers will most likely have no choice but to bump up prices later this year, industry veterans said.
"Retailers will be dragged kicking and screaming to higher prices," said Ira Kalish, director of global economics at Deloitte Research.
Goldman analyst Adrianne Shapira expects inflation to be more of a risk in the second half of the year, when she sees costs going up in the low-to-mid teens on a percentage basis.
Some industry veterans suggested shoppers have been getting a sweet deal for a long time and should be ready to pony up more money for their inexpensive jeans and t-shirts.
"Apparel has been deflationary for 20 years, so it's not unreasonable to think at one point it was going to stabilize and even be modestly higher," said J.C. Penney Co Inc CEO Myron Ullman.
By Dhanya Skariachan and Phil Wahba
(Additional reporting by Mark Potter in London and Jessica Wohl in Chicago; Editing by Steve Orlofsky)

© Thomson Reuters 2023 All rights reserved.