S.Africa mines won't be nationalised
JOHANNESBURG (Reuters) - South African Mineral Resources Minister Susan Shabangu told Reuters on Wednesday 8 July the country would not nationalise mines despite calls from the ruling party's allies.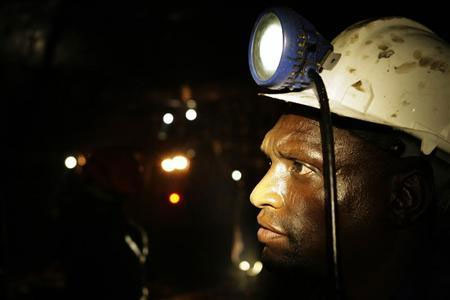 Photo: REUTERS/Siphiwe Sibeko
The African National Congress' youth wing and South Africa's powerful trade union federation COSATU have asked the government to take control of mines in a country which is the world's largest source of platinum and a major producer of gold.
"We are definitely not going to nationalise mines," Shabangu said in an interview.
"The ongoing debate will not change the government's policy at all. It must be a concern for investors, but I want to assure them that as government we are not going to go on that route. The South Africa they knew yesterday is the same today and nothing will change. It is a non-issue."
South Africa's new President Jacob Zuma has faced pressure to introduce economic policy changes in the midst of a recession and spreading poverty. Those behind the calls to nationalise the country's mines say they want to protect jobs, many of which have already been lost during the global economic downturn.
"People can talk and explore the issue at an intellectual level according to their persuasions," Shabangu said.
The ANC said this week it would allow debate on nationalisation, but many analysts have said it would harm the biggest economy in Africa if such a policy was adopted.
She said South Africa still held key concerns over Xstrata Plc's merger proposal to Anglo American Plc, including the possible impact on jobs and anti-trust issues.
Shabangu said she had met Xstrata Chief Executive Mick Davis earlier on Wednesday 8 July, and was briefed about its merger proposal.
"He came to brief me about their intentions. I still have concerns over this issue, our biggest interest is the preserve of our national interests -- where will they be listing such an entity, how will it impact on the employment situation and also there are issues on the laws of competition," Shabangu said.
She said Davis was still keen to push through the nil-premium merger, which Anglo has rebuffed. She declined to say if Xstrata had indicated whether it could offer a premium.
"It's quite clear from their side they are prepared to move forward with the merger," she said.
Xstrata, the world's biggest exporter of coal for power plants, wants to create a group to rival the global mining sector's No. 1 firm, BHP Billiton, and Rio Tinto.
A combination of the two firms would create the world's biggest producer of zinc, platinum, coal for power stations and ferrochrome and rank as the world's second biggest in coal for steelmaking and copper.
By James Macharia
© Thomson Reuters 2023 All rights reserved.