S.Africa union says split over Implats pay deal
JOHANNESBURG, Aug 25 (Reuters) - South Africa's biggest union said on Tuesday 25 August that first results of a ballot of workers at platinum producer Impala Platinum (IMPJ.J) showed a split over whether to accept an improved wage offer to avert a strike.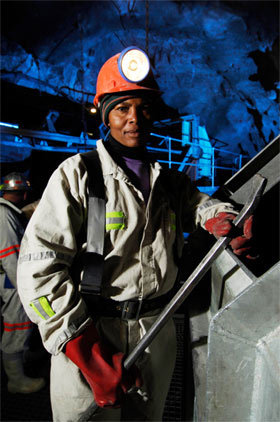 Photo: www.implats.co.za
The National Union of Mineworkers said it expected results from all its branches later on Tuesday 25 August and gave no indication as to how many of them had so far rejected the offer.
South Africa produces four fifths of the world's platinum.
A strike at Impala Platinum (Implats), the world's No. 2 platinum producer, could push up prices of the precious metal used in catalytic converters to remove pollutants from car exhausts, and in jewellery.
Implats' latest offer met two key NUM demands, handing it a one-year wage agreement, with a pay rise of 10 percent for all workers, but NUM negotiator Eddie Majadibodu said for some it was not enough.
"There are some branches which have rejected the offer... but we don't know how many as we have not consolidated all the reports yet," Majadibodu told Reuters.
The union suspended a strike at the Implats mines on Sunday 23 August after a breakthrough in talks, but Majadibodu said some workers may again choose to down tools, asking for an even better deal.
"Those who have rejected the offer say they are not going to work until a better offer has been put on the table," he said.
The union is due to meet with Implats on Wednesday 26 August to discuss the dispute.
The union has about 18,000 members at Implats, and the company said a strike would likely hit output from its mines.
(Reporting by Agnieszka Flak; Editing by Matthew Tostevin)
© Thomson Reuters 2023 All rights reserved.