Sanofi board heavyweights may be key to Genzyme deal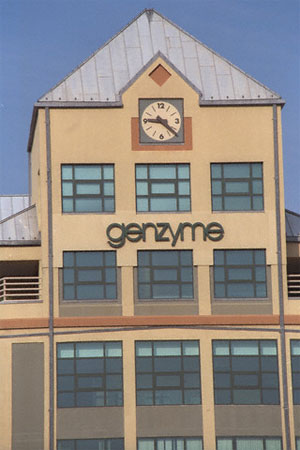 Genzyme offices, Boston. Photo : Corbis
(Reuters) - An oil major, a luxury cosmetics company and independent directors including a former astronaut will have a key say in what may be the next multi-billion dollar merger to shake the global pharmaceutical industry.
Sanofi-Aventis (SASY.PA) Chief Executive Chris Viehbacher wants to buy U.S. based Genzyme (GENZ.O), which makes drugs to treat rare diseases, for $18.5 billion, but may be forced to pay more in the face of resistance from Genzyme.
This means Viehbacher has to keep his own board of directors onside.
The board, which has just lost its flamboyant, long-standing chairman, is dominated by representatives of top shareholders Total (TOTF.PA) and L'Oreal (OREP.PA), but is also brimming with pharma experts brought in via acquisitions.
"What's unusual is the way Sanofi has been cobbled together," said Harry Korine, who teaches corporate governance at London Business School and global strategy at French business school INSEAD.
"That means you have shareholders who have a very, very long-term interest in the company, who've known the constituent parts for decades, and it makes decision-making harder than a company that's had 20 or 30 years of uniform, organic growth."
Any hopes from Genzyme shareholders for a dramatically improved bid may hinge on how the internal dynamics of this disparate board play out.
Both Total and L'Oreal have deep roots in Sanofi-Aventis and retain influence over management of the company.
Sanofi was owned until 1998 by Elf Acquitaine, which was later bought by Total. Luxury cosmetics group L'Oreal owned Sythelabo, which merged with Sanofi that year.
The pair together own about 15 percent of the stock and 27 percent of the voting rights. Current and former L'Oreal and Total executives represent a third of the board, a fact some experts say gives the two companies too much influence.
Former L'Oreal chief executive and current chairman Lindsay Owen-Jones, 64, has sat on the board for roughly 10 years, one of the longest tenures. He is a legend in French business for turning L'Oreal from a French haircare specialist into a global cosmetics giant.
NATURALLY CAUTIOUS
With him sits L'Oreal finance head Christian Mulliez, 49, also a pharmaceutical industry veteran, who worked for Synthelabo for more than a decade.
"He's a pharma guy way before he's a cosmetics guy. He knows Sanofi inside and out so he is bound to be a board leader, but he's also a CFO which makes him naturally cautious," said a Paris-based banker who asked not to be named.
While many market watchers agree L'Oreal and Total dominate the board, they also say their influence is on the wane.
Both are looking to exit their stakes entirely. Total has said it will get out by 2012 and L'Oreal will exit if and when it finds a suitable acquisition.
Total is already scaling back its presence and in July, 53-year-old Total Chief Financial Officer Patrick de la Chevardiere quietly resigned two years before his term expired.
This leaves current Total Chairman Thierry Desmarest and former Total CFO Robert Castaigne on the board, but they too are likely to leave in coming years as Total exits its position.
Jean-Francois Dehecq stepped down as Sanofi-Aventis chairman recently after building the company over the past 30 years. This leaves Serge Weinberg, ex-CEO of Fnac to Gucci group PPR (PRTP.PA), at the head of the board.
Weinberg transformed PPR into a European luxury and retail giant, won a bidding war for Gucci then didn't blink when designer Tom Ford walked out the door after a contract dispute.
"Weinberg is a powerful figure and well-connected. I think he will be a strong chairman of the board. But to me the major change is the departure of Dehecq. He created that company," said Reinhard Angelmar, a professor in marketing at INSEAD.
Because of Dehecq's many mergers, he brought together a board in which six directors have significant experience in the pharmaceutical industry. Even Claudie Haignere, a former astronaut and a former minister in the French government, started her career as a physician.
Still, Viehbacher said this week he believed Genzyme shareholders were willing to sell at a "reasonable price" -- indicating he may have enough headroom to strike a deal without too much boardroom wrangling.
"The board may have set an upper limit on the Genzyme acquisition price," said Korine, the governance expert. "But they will have given Viehbacher sufficient headroom to do a deal. He would never have taken the job in the first place if he felt he was going to be pushed around."
(Additional reporting by Leila Abboud and Caroline Jacobs; Editing by David Holmes)
© Thomson Reuters 2023 All rights reserved.