Search for safety takes gold to new highs
(Reuters) - Gold hit record highs for the fourth day in a row on Monday, boosted by growing expectations for U.S. interest rates to remain exceptionally low as the economy struggles, while silver came in sight of 30-year peaks.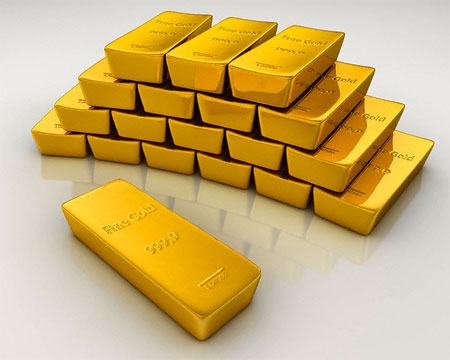 Photo : Corbis
Data on Friday showed Americans were at their most pessimistic in over a year this month, as growing fears about job security and finances undermined U.S. consumer sentiment and painted a muted picture of price pressures.
This helped reinforce the belief that the Federal Reserve will signal its intention to resume large-scale purchases of government bonds to keep interest rates low when it meets on Tuesday, propelling gold above $1,280.00 for the first time.
Spot gold rose 0.4 percent to $1,280.65 an ounce by 1135 GMT (7:35 a.m. EDT), having hit a record peak of $1,283.35 earlier. U.S. gold futures for December delivery rose 0.5 percent to $1,282.50 an ounce.
"Certainly, this will depend on macro data to come, but the pressure on the U.S. central bank is gradually building and such a move would be supportive for gold as monetary base expands further and the dollar weakens," said Andrey Kruychenkov, an analyst with VTB Capital, in a note.
Confidence in the global economy is flagging and the prospect of low interest rates and a weaker dollar set a solid foundation for gold, which holds more appeal in such an environment as it bears no yield of its own.
The dollar slipped broadly on Monday, under pressure from speculation about the chances for a resumption of quantitative easing -- the practice of buying debt to restrict interest rates. This in turn boosted European equities. .EU
16 PCT AND CLIMBING
Spot gold prices have risen by more than 16 percent this year, driven by the desire among investors for a safe store of value in light of major currencies, equities and bonds becoming increasingly volatile.
Reflecting keen investor interest in gold was another rise in holdings of bullion in the world's largest gold-backed exchange-traded fund, the SPDR Gold Trust, which rose by another 6 tonnes on Friday, bringing net inflows to 2.0 tonnes so far this month.
Adding to the economic uncertainty, a range of European data on manufacturing, consumer confidence and Germany's business climate could signal a slowdown in the recovery process.
On the physical market, demand was expected to stay strong in the next few months, especially out of China, dealers said.
Silver prices, which have risen by 17 percent in the last five weeks alone, were less than 1.5 percent below their highest level in nearly 30 years on Monday.
Silver has acted as a cheap alternative to gold for investors who have sought out safe-haven assets in which to park their cash, and even more so as gold has hit record highs this month, yet has also drawn strength from the modest recovery in global growth.
"Silver appears to be doing better than gold at the minute on the back of a combination, not just investment demand, but also industrial demand as the cycle improves for all the electronics companies," said Natixis strategist Nic Brown, who has a more downbeat outlook for the gold price.
"It's another little indication that things don't seem to add up properly when you look at the markets in total. The rally that continues to take place across the precious metals, led by gold, is somewhat at odds with what we perceive to be a gradual, if not a spectacular, recovery in the global economy," he said.
Spot silver rose 0.7 percent to $20.90 an ounce, after reaching $20.99 on Friday, its highest in the past 2-1/2 years when it touched $21.24, its highest since October 1980.
The world's largest silver-backed exchange-traded fund, the iShares Silver Trust, said its holdings rose to 9,381.74 tonnes by Sept 17 from 9,343.69 tonnes on Sept 16.
The platinum group metals rose in line with the rally in gold. Platinum held around its highest in four months, quoted at $1,628.50 an ounce, up from $1,60.55 on Friday, on track for a 6.6 percent gain this month, which would be its largest since November 2009.
Palladium hovered a few dollars below last week's five-month highs, quoted at $542.00, against $539.88.
(Additional reporting by Rujun Shen in Singapore; Editing by Sue Thomas)
© Thomson Reuters 2022 All rights reserved.