Shape up with squishy squashy underwear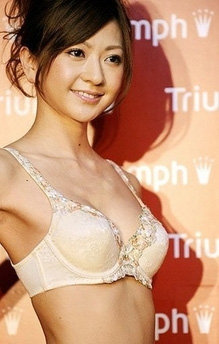 Photo : Kazuhiro Nogi/AFP
PARIS, March 2, 2008 (AFP) - Whether it be worldwide obesity, seniors craving to be juniors, or the return of form-fitting frocks, nip-and-tuck lingerie is on the up and up, fixing insides to look good outside.
From stick-on silicone bras that lift, or add cleavage or size, to bottom-boosting foam pads, or bulge-removing undies, new-age body parts and corsets are carving out a sizeable share on the lingerie front long after granny discarded her boned corsets.
Shapewear, also known as slimming or control-wear, dates back about a decade when hi-tech circular knitting machines began producing seam-free garments from stretch yarns that can squeeze flat the flab and flesh building in unwanted places.
Increasingly popular with couture-clad red-carpet celebs, one brand of undies, claiming to be "as recommended by Gwyneth Paltrow", put it this way on the Internet.
"These," it said of its high-waisted shapewear underpants, "are the closest you are going to get to a washboard stomach and toned bottom without spending hours at the gum."
Some lingerie experts say growing shapewear sales result from fashion trends. "The return of skin-hugging dresses and use of knits that stick to the skin make slimming lingerie a must," said Virginie Gondoui of Paris' yearly Salon de la Lingerie, the world's biggest underwear get-together.
But technological know-how has been just as vital in developing DIY glam.
One pioneer, US firm The Body Wrap, launched into the lingerie a little by chance nine years ago while trying to produce a tight-fitting girdle to put inside swimsuits for a Betty Boop or Jennifer Lopez look on the beach.
"It never worked inside a swimsuit," said managing director Scott Smith, "but when I began showing the seamless garment to people, everybody loved it, I signed up dozens of new accounts. We designed a bra and pants, bought more circular knitting machines, and it worked."
The firm says it sells a million bits of fitting underwear in spandex and nylon to more than 50 countries a year, he said, including XXXXXXXL sizes to obese-ridden America. Slimmer Europe only sells up to five -- not seven -- Xs, he added.
"It's washable and will last four to five years," he said. "Shapewear doesn't slim you, but it does make you feel as if you're toned."
-- Squishy 'chicken fillets' pump up breasts --
British-based Plie Brazilian Shapewear, which started up in Europe a couple of years ago after establishing in warm-weather Brazil, says its high-tech lycra stretch garments come with a moisture-management system that draws perspiration away as it evaporates.
Bulge-compressing nylon and elastathane are knitted in "for power panels for more density to combat saddle-bags, and problem areas like tummies and hips, as well as for back support," said sales director John Pearce.
"A lot of shapewear has this double benefit," he said. "It's tighter, keeps you vertical, straight, and can reduce headaches."
While the trend the world over is for spicy ultra-feminine lingerie, shapewear generally is far from titillating.
Often flesh-coloured or in plain blacks or whites, fitting underpants can stretch high above the waist or right down the thighs like a body-suit fashioned for a cycling pro -- not the ideal undies for a romantic date.
"You need to sex it up," said Smith, who says only 18 percent of his sales are for the obese, and that after targeting the 40-somethings he hopes to hit 20-to-30 year-olds by weaving shiny lurex and metallic yarns in his products.
On the squishy front, fashion's new first aids too are hardly seductive.
Adepts of backless strapless dresses and plunging necklines might find self-adhesive silicone bras said to have hours of staying-power ideal, along with bits of transparent tape made to hold necklines or straps tightly in place.
But nowadays rather than tailor the dress to the body, the body can be tailored to the dress.
Makers of these lingerie accessories offer soft-silicone size boosters or foam push-ups which can be slipped in and out of bras, or stick-on lift-ups for an invisibly magic hoist.
The silicone slivers are now known as "chicken fillets".
Major player in body fix-it lines, Dutch company Magic Body Fashion, which kicked off in 1988 making foam shoulder pads, for example has water and oil filled pads for stuffing into swimsuits as well as a pop-in pad with a built-in air-pump to blow up as needed on the beach.
Launched a year ago, company director Hans de Vries said they have sold 30,000 boxes of air-pump breast boosters so far.
Boosters, said Spain's Comfort, Care and Beauty at the Paris fair, adapted to body heat and were easy to handle. "Sales are on the up the up," she said.by Claire Rosemberg
Copyright © 2022 AFP. All rights reserved. All information displayed in this section (dispatches, photographs, logos) are protected by intellectual property rights owned by Agence France-Presse. As a consequence you may not copy, reproduce, modify, transmit, publish, display or in any way commercially exploit any of the contents of this section without the prior written consent of Agence France-Presses.