Shoes boost Tod's first half sales
MILAN, July 29 (Reuters) - Italian luxury group Tod's (TOD.MI) turned in a 3.4 percent rise in first-half sales, boosted by demand for its shoes, it said on Wednesday 29 July.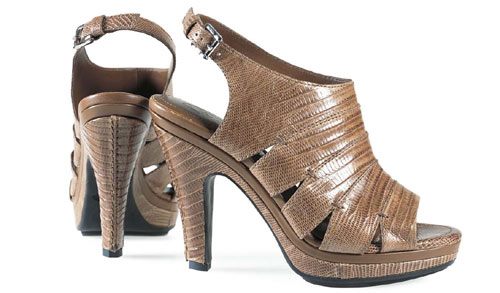 Tod's sandals
Tod's, famed for its soft loafers and bags, said in a statement sales were 358.9 million euros ($507.7 million).
At constant exchange rates, they rose 2 percent to 353.8 million euros.
Tod's Chairman Diego Della Valle said in the statement the group "continues to register results that show growth even at a time when the market is difficult".
He has previously said he expected Tod's to see "small growth this year" if a current stabilisation of the market continued.
Shares rose 1.2 percent to 39.76 euros at 1031 GMT.
Tod's, for whom Oscar-winning actress Gwyneth Paltrow has modelled, said shoe sales rose 7.7 percent. Leather and accessory sales fell 9.5 percent while clothing sales fell 1.6 percent.
The Tod's brand saw sales fall 0.1 percent. The group's Hogan brand saw sales rise 12.6 percent while Fay sales were down 0.7 percent.
By region, sales fell in Europe -- excluding Italy -- and North America fell but they rose in Italy, and Asia and the rest of the world.
Last week, French luxury goods group Hermes (HRMS.PA) saw a better-than-expected improvement in trading in the second quarter, helped by consumer's crisis-proof appetite for its handbags and stronger perfume sales. ($1=.7069 Euro) (Editing by Hans Peters)
© Thomson Reuters 2022 All rights reserved.