Showing skin no sin for China's beach babes
By Paul Eckert
BEIJING (Reuters) - Beach volleyball fans are getting more bikini bliss for their buck in Beijing, thanks to cheerleading Chinese "beach babes" who are baring nearly all to help their country stage a colorful Olympics.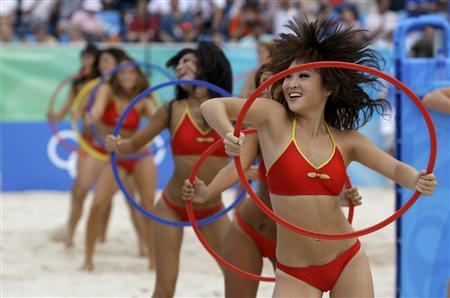 Part cheerleader, part go-go dancer, the beach babes -- "shatan baobei" in Chinese -- writhe and jiggle to blaring rock and disco music in bathing suits that would make their prudish Communist elders roll in their graves.
"All of us in China have paid a lot to stage these Olympics and tanning my skin brown is part of that effort," said Wang Hui, one of five Chinese women chosen to dance with veteran Spanish cheerleaders at Beijing's 12,200-seat Chaoyang Park stadium.
Chinese people have a traditional aversion to tanning which is associated with poor laborers who have to toil under a hot sun. Skin whitening beauty products are big business in Asia.
"I feel extremely proud to be a Chinese cheerleader and it is a special honor to perform with the Spaniards in the international troupe," said the 24-year-old physical trainer from eastern Shandong province, still sweating in a tiny turquoise-colored bikini after Friday's routine.
Like everything in China that has changed at a dazzling pace, Chinese women's style has gone from frumpy to fashionable in less than a generation. The bikini has caught on in the past decade after being denounced as "pornographic" in the 1980s.
Wang and fellow beach babe Chen Jin shrug off the notion that Chinese of today would be offended by their steamy show, beamed across China and around the world.
"I don't think Chinese audiences are that conservative anymore and their thinking about this kind of thing is already rather liberated," said Chen, a 24-year-old dance teacher from far western Xinjiang province. "It's quite normal to go to the beach and see most young women dressed this way."
Fashion editor Xue Tie'na said her magazine, Cosmopolitan China, has staged contests in recent years to promote the bikini as a way to "enhance women's individualism and confidence."
The campaign appears to be bearing fruit, she suggested.
"The Chinese cheerleaders are all beautiful girls wearing fashionable bikinis and this is probably the first time they've appeared in public in such highly revealing clothes," Xue told Reuters.
"We used to watch bikini scenes in foreign movies ... now I can see that (our women) are very open and fashionable."
(Additional reporting by Beijing Newsroom; editing by Keith Weir)
© Thomson Reuters 2023 All rights reserved.