Silks, perfumes help Hermès shine in consumer gloom
By Astrid Wendlandt
PARIS (Reuters) - French luxury group Hermes is not expecting to join the CAC 40 index of blue chips .FCHI, sending its shares down more than 9 percent, and said it was not affected yet by consumer spending gloom.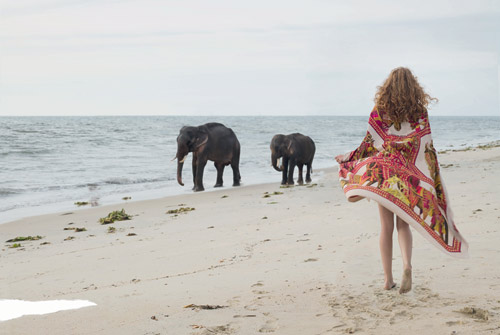 Hermès ad2008
Controlling family shareholders were not planning to cut their stake -- from 73 percent -- to increase the free float and liquidity which would boost its chances of joining the CAC 40, Hermes said on Tuesday.
Shares in the Paris-based company -- one of few French stock gainers this year -- fell 7.7 percent to 93 euros by 1201 GMT.
"Our shareholder base is very solid and stable," Hermes Finance Director Mireille Maury told Reuters in an interview after the group posted above-forecast second-quarter sales.
"Our floating stock is too small... There is no reason why we should enter the CAC 40," she added.
Entering the CAC 40 usually helps push up the price of a stock as it becomes a must-have for index-tracker funds.
Hermes has market capitalisation of 10.7 billion euros, above that of CAC 40-member PPR which is worth 8.2 billion, and is the fifth best performing stock of the wider SBF120 Paris index which lost 24 percent so far this year.
Hermes shares have climbed 11 percent in 2008 while the CAC 40 lost 23 percent and sector peers Bulgari lost 32 percent, LVMH 20 percent and PPR 43 percent. The stock has outperformed the DJ Stoxx personal and household goods index which lost 26 percent.
PRICEY
Hermes is the priciest stock in the luxury goods sector, trading at a prospective price to earnings ratio for 2008 of about 33 times which puts it at a multiple more than twice higher than the luxury sector average of about 13-14 percent.
The stock's high rating stems in part from speculation it is a takeover target -- a possibility the company has repeatedly denied -- and resilient demand for its trademark printed scarfs, handbags and perfurmes.
"European shoppers were there again during the quarter," Maury said.
"And we have seen an incredible pick-up in demand in the U.S. over the past few years for our products which appears to be unaffected by concerns about the current crisis," she said.
Hermes, which also owns English shoe maker John Lobb and 35 percent of French fashion house Jean-Paul Gaultier, posted a 12.1 percent rise in second-quarter sales to 398.1 million euros ($632.5 million), above expectations of 390 million euros.
British rival Burberry earlier this month issued a trading update that showed resilient sales in the three months to June, up 4.5 percent at shops open for at least a year.
"With this publication, Hermes confirms its capacity to resist in a less favourable environment," French broker CM-CIC Securities said in a note.
Maury confirmed Hermes's 10 percent sales growth forecast for the current year, excluding the impact of currency fluctuations, disposals and acquisitions as well as its target of a current operating margin of 25.5 percent.
"Hermes, like Burberry and (luxury group) Richemont, continues to show incredible resilience in the current economic slowdown," HSBC said in note.
(Additional reporting by Blaise Robinson and Pascale Denis)
(Editing by Louise Ireland)
© Thomson Reuters 2023 All rights reserved.