Simon rejects General Growth terms for talks
By Paritosh Bansal
NEW YORK (Reuters) - Simon Property Group Inc (SPG.N) said it could not agree to conditions General Growth Properties Inc (GGWPQ.PK) wanted to impose before talks about Simon's $10 billion bid for the No. 2 U.S. mall owner.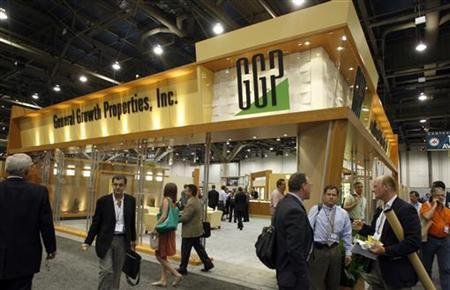 General Growth's terms for a nondisclosure agreement were not constructive and "make clear your apparent interest in precluding our offer from moving forward or being considered by your stakeholders," Simon said in a letter to its smaller rival.
The letter is the latest salvo in a battle that has rapidly escalated after the No. 1 U.S. mall owner went public with its offer for General Growth on Tuesday 16 February, following months of behind-the-scenes maneuvering.
General Growth, which became the biggest real estate failure in U.S. history when it filed for bankruptcy in April, has said it is pursuing an exit plan, which includes emerging from bankruptcy as a stand-alone entity as well as potential deals.
General Growth has said it wants Simon to take part in its process, but the two sides have not been able to agree on the terms of a nondisclosure agreement, which is usually signed before a company opens up its books to another.
The company said in a statement that its "non-disclosure agreement is designed to promote a level playing field and a competitive process to maximize value for all GGP stakeholders, and its terms are customary and reasonable."
"We do not believe it is productive to attempt to negotiate the terms of an NDA with Simon through press releases," General Growth said.
But Simon said the terms proposed by General Growth would prohibit it from making a proposal to buy the company without its prior approval, preclude it from talking with other stakeholders about their talks, and not allow it to talk with third parties regarding a possible transaction involving General Growth.
Calling the restrictions unreasonable, Simon said it rendered General Growth's "'process' a charade from the start by seeking to exclude the most logical and capable acquirer."
"In light of the lack of interest General Growth has shown to date in engaging with us, SPG clearly cannot, and we will not, accede to terms that do not guarantee us fair treatment in your process," Simon Property Group wrote in the letter.
It added that the terms "seem to be intended specifically to sideline us, while you pursue discussions with other parties -- as you have previously threatened to do -- without engaging with us."
General Growth, owner of such marquee properties as Fashion Show in Las Vegas, Ala Moana Center in Hawaii and Faneuil Hall Marketplace in Boston, did not have an immediate comment.
Simon stock closed up 0.7 percent at $77.72, while General Growth closed up 0.4 percent at $12.74 on Friday 19 February.
(Reporting by Paritosh Bansal and Ilaina Jonas; Editing by Gary Hill)
© Thomson Reuters 2022 All rights reserved.