Singer Annie Lennox says no to endorsing designers
NEW YORK (Reuters Life!) - Singer Annie Lennox is known for her sense of style but she steers clear of joining ranks with designers because she does not want to be owned by a fashion house.
"I never endorse anybody," said the singer who is visiting New York ahead of the city's semi-annual Fashion Week.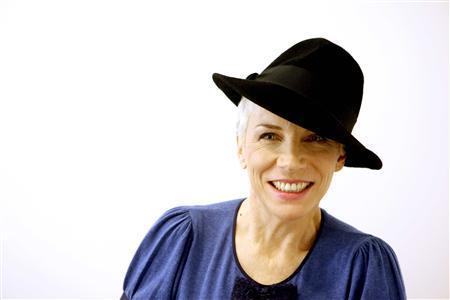 "I don't want to be a clothes horse for a designer. That's not who I am. I'm not a model. I'm an artist, and so I don't want to be owned by some label."
The 54-year-old Scottish singer who is about to release her first greatest hits album, "The Annie Lennox Collection," gained fame for her striking style as part of the 1980s pop duo Eurythmics.
At the 1984 Grammy awards, she performed "Sweet Dreams (Are Made of This)" dressed in drag, complete with false sideburns, to make a mockery of questions she had fielded since the start of her career about her often androgynous appearance.
While she thinks it is fine for others to endorse designers, Lennox said she wants to remain impartial to the whole fashion industry.
"You wear this expensive designer dress on the runway and that's who you are. It's almost like a status symbol," she said.
Although she professes a love of clothes, she said she is a real cheapskate.
"Half my stuff is cheap and a bit secondhand, and I just put it together in my own way," she added.
© Thomson Reuters 2023 All rights reserved.