Small brands can bite, ex-Valentino chief says
MILAN (Reuters) - Small brands can carve out a safe niche for themselves in an overcrowded fashion market, former Valentino chairman Matteo Marzotto said, adding that ideas count more than money in the crisis-hit luxury industry.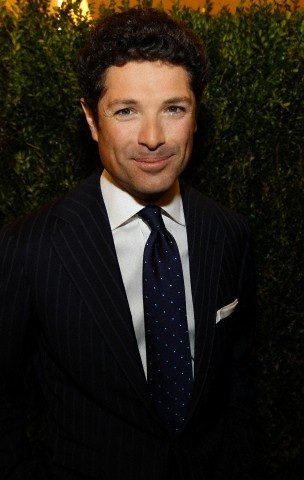 Matteo Marzotto
Analysts say strong brands are better positioned for recovery in an increasingly polarized luxury market, with weak brands suffering from cash problems and stretched competition.
Marzotto, a member of Italy's leading textile family, bought small French house Vionnet in 2008, at the height of the financial crisis, after leading Valentino for two years.
"We are living an historical change. There are many more brands, the market is saturated, much more competitive, you need ideas," the 43-year-old businessman told Reuters.
A keen investor, Marzotto denied a report in the New York Post saying Ungaro's owner Asim Abdullah had contacted him to offer a majority stake in the fashion label.
Contacted by Reuters, Ungaro did not comment on the report.
"I was introduced to Abdullah once, in Paris, years ago but have never talked to him since," soft-spoken Marzotto said, in his office in Milan.
"I am not interested in Ungaro, Vionnet is my job," he said.
COMPETITIVE PRICES
Marzotto, who also sits in Italian jeweller Morellato's board, said the "crazy days" of luxury were gone.
"At Valentino we sold haute couture clothes for hundreds of thousands of euros, because we were in a very exclusive niche," he said, remembering his five years alongside designer Valentino Garavani, who also left the maison in 2008.
"I understand that clothes of 2,000 euros can be expensive."
Marzotto bought Vionnet with Giovanni Castiglioni, longtime friend and chief executive of Italian fashion house Marni, with the aim of relaunching the brand founded in the early 1900s by French designer Madeleine Vionnet.
Known for its elegant Grecian-style and bias cut, Vionnet aims to open shops in the world's 150 biggest department stores in three years and reach break-even in six years.
"We are very small, but we move a lot," said the dynamic Marzotto, a sportsman who also heads Italy's tourism federation Enit and supports a Foundation for cystic fibrosis research.
Launched in 2009, Vionnet sells around 3,000 clothes items per season, around 30 times less than a big fashion name.
"Our prices are competitive," Marzotto said, wearing a finely tailored suit, at the launch of its first shoes collection with designer Giuseppe Zanotti this week.
The prices go from an average of 250 euros to around 700 euros for a pair of ballerinas with 2,000 hand-sewn sequins.
(Editing by Paul Casciato)
© Thomson Reuters 2023 All rights reserved.