Snakes star in jewelry line from Pitt and Jolie
LOS ANGELES (Reuters) - Hollywood power couple Brad Pitt and Angelina Jolie are trying their hand at something new to dazzle their fans -- designing a jewelry collection.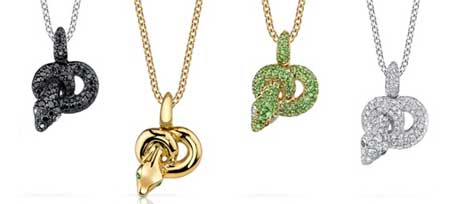 Brad Pitt Angelina Jolie for Asprey
The "Protector" collection, designed for luxury British jeweler Asprey, is a range of gold jewelry and silver accessories that features snakes, considered a symbol of protection and admired by Jolie.
Jolie, listed as Hollywood's top-earning actress by Forbes earlier this year, was first given a snake ring during her first pregnancy with daughter Shiloh, who was born in 2006. The couple now have six children.
All net proceeds from the jewelry will be donated to the charity Education Partnership for Children of Conflict (EPCC), which Jolie co-founded in 2006 to raise money for educating child victims of war, conflict and natural disasters.
Prices start at $525 for a silver spoon with a snaked-shaped handle. The line also including pendants, bracelets, rings and an egg cup.
Asprey officials told Reuters Television that it took more than a year for the duo to design the limited-edition collection, which goes on sale this week at Asprey stores in London, New York, Beverly Hills, Tokyo and Dubai.
(Reporting by Reuters Television, Editing by Belinda Goldsmith)
© Thomson Reuters 2023 All rights reserved.