Sourcing clause could deter foreign retailers in India
MUMBAI - Local-sourcing requirements could deter foreign retailers from taking advantage of new rules allowing them to take full ownership of their operations in India, and many potential investors are seeking more clarity from the government.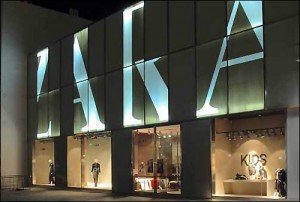 Zara store in Pune, India
India formally eliminated restrictions on foreign investment in its single-brand retail sector earlier this month, but made it mandatory for foreign firms to source 30 percent of their requirements from small and medium enterprises.
The caveat defines small industries as those with a total investment in plant and machinery of up to 50 million rupees (about $1 million).
Representatives from the U.S.-India Business Council, which works towards strengthening trade ties, will visit India on Jan. 31 to discuss the finer details of the sourcing clause with government officials in New Delhi, council president Ron Somers, who is based in Washington DC, told Reuters.
Many retailers are keen to invest in India but are concerned about the local-sourcing clause, he said.
"We need more clarity on the fine print. We need to understand what this local-sourcing requirement means for our companies, as single-brand retail comprises of many different kinds of businesses," he said.
"We understand the intention and the background for the clause... But this will be a difficult policy to make work if it is followed right to the letter," he said.
"It may not create the rush or flood of investment initially because of these different fine-print provisions."
The council has estimated that the Indian single-rand retail market will grow threefold to $20-$25 billion in five years.
Single-brand retail comprises a wide range of speciality formats, including electronics, apparel, cosmetics, footwear and fast-food.
"The level of technology, quality and scale which is required by global brands is not going to be present with the these very small businesses," said Debashish Mukherjee, a partner and vice-president at consultancy firm AT Kearney.
"With the same revenue, the company has to go to more suppliers so that they are less than $1 million (maximum investment). It will create huge supply chain problems."
Josefin Thorell, a spokeswoman for Swedish furniture firm IKEA, said on Monday that India was an interesting market but the company needed a better understanding of what the guidelines entail.
"We have found that the conditions applied to local-sourcing from SMEs (small and medium-sized enterprises) might be difficult for us to live up to," she said from Sweden.
However, we are optimistic and hope to be able to present more information shortly about our possibilities to establish retail operations in the country once the conditions are right."
The Financial Times reported earlier that IKEA was holding back on plans to enter India, citing the local-sourcing clause as an obstacle.
"We need to see what (the restrictions) will mean for us. We are patient because the conditions need to be right. In this sector, when everything seems to be okay, then we will be in," Chief Executive Mikael Ohlsson was quoted as saying.
In December, the government suspended plans to open India's $450 billion supermarket sector to foreign firms, backtracking from one of its boldest reforms in years.
Removing restrictions in the single-brand sector -- which was announced at the same time as the supermarket policy change -- was relatively uncontroversial.
A number of retail players are pressing ahead with plans to enter and expand in the country in joint venture partnerships with a 51 percent foreign ownership cap.
The 51 percent cap, which was permitted even earlier, does not make local sourcing mandatory.
Starbucks Corp, for example, is in the process of finalising a retail partnership with India's Tata Coffee Ltd . An announcement is likely by the end of the month, Tata Coffee has said.
Spain's Inditex Group, which owns fashion brand Zara and operates in India through a partnership with Trent, another Tata Group company, said its expansion plans for its joint venture in India were unchanged.
"We are not changing at all our expansion plans there," the company's public relations department said in an email, quoting Chairman Pablo Isla.
"Currently we're present only with Zara. We are beginning to consider the possibility of introducing other brands. Probably Massimo Dutti would be the first one," he was quoted as saying.
Reliance Retail, a unit of industrial conglomerate Reliance Industries, which has joint ventures with Marks & Spencer and U.S. clothing chain Diesel, among others, has said it expects its partners to continue with their joint ventures in India and not try to go it alone.

(Reporting by Nandita Bose; Editing by Ted Kerr)
© Thomson Reuters 2023 All rights reserved.