South Africa approves Wal-Mart bid with token conditions
May 31 - South Africa approved Wal-Mart's $2.4 billion bid for control of retailer Massmart with minimal conditions on Tuesday, giving the world's top retailer a big boost in its plan to expand in fast-growing Africa.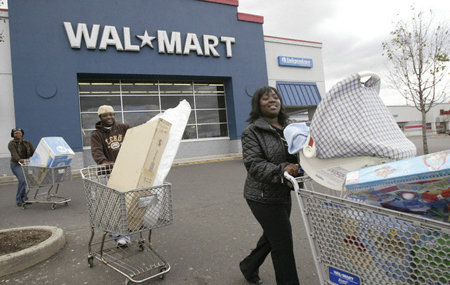 Customers leave a Wal-Mart store in Union, New Jersey, USA (Photo: Corbis)
South Africa's Competition Tribunal told Wal-Mart not to cut jobs for two years, honor existing labor agreements and work to develop local suppliers, concessions the U.S. firm had earlier proposed itself.
The deal gives Wal-Mart a 51 percent stake of Massmart, a discount retailer that sells everything from liquor to televisions and has a presence in at least a dozen African countries.
The decision will be seen as a major advance for Wal-Mart, which had said it could drop its 16.5 billion rand ($2.4 billion) offer if the government imposed targets on using local suppliers.
"This is good news. It included concessions put forward by both parties so it's a victory all round," said Paul Theron, CEO of Johannesburg-based asset manager Vestact.
"It shows that South Africa is open for business, that large corporates are potential players for outside investment."
The ruling is a blow to South Africa's influential labor unions, one of which is already considering an appeal.
"We are meeting with our legal representatives to explore legal options," said Mike Abrahams, a spokesman for the South Africa Commercial, Catering and Allied Workers Union, adding that the union could consider appealing to the Competition Appeals Court.
That could further delay the deal, which was first announced in September.
COSATU, South Africa's powerful labor federation, previously threatened the "mother of all boycotts" if the acquisition were approved.
TEST CASE FOR S.AFRICA
The deal was a test case for major foreign investment in South Africa, which has the continent's deepest capital markets but where unions are in a coalition with the ruling African National Congress.
Massmart must "give preference" to reemploying about 500 workers fired in 2010, set up a 100 million rand ($15 million) fund to help develop local suppliers, and not challenge SACCAWU's right to represent bargaining units for three years, the tribunal said.
The two companies said in a joint statement they were "pleased" with the decision and expected Massmart's food business to grow by 50 percent over the next five years.
The decision was a victory for Wal-Mart, as it did not impose restrictions on where it sources it goods, said Brian Sozzi, a New York-based analyst at Wall Street Strategies.
"In two years it looks like they can go to town on labor costs," he said.
"The whole thing with them is to get goods into the South African market as cheap as possible and sell them as cheap as possible."
Three government departments and the unions had lined up against the deal, asking the tribunal to impose targets on local procurement and a freeze on job cuts.
The government and unions have said Wal-Mart's global supply network could lead to a flood of cheap imports, sparking job losses and squeezing local companies.
"We would have hoped that the deal would be rejected or at least much more stringent conditions be imposed," said Patrick Craven, a spokesman for the COSATU union federation.
"Our biggest concern remains completely unanswered, and that is the knock-on effect on jobs in other retailers and the manufacturing industry."
MEEK AND MILD
"This a meek and mild ruling," said Syd Vianello, a retail analyst at Nedgroup Securities.
"I think all the fears of onerous conditions have been removed."
South Africa last month imposed much more stringent conditions on Japan's Kansai Paint, in its bid for local paint firm Freeworld Coatings.
The Japanese firm will be forced to sell one Freeworld's businesses, build a new factory and not cut jobs for three years.
Massmart will retain its local listing and management after the deal. In turn, Wal-Mart will gain access to Africa, which is expected to see its population roughly double to 2 billion by 2050, and where disposable incomes are steadily rising.
Massmart CEO Grant Pattison told a conference call the company was "making good progress" in identifying sites for potential expansion in Nigeria, and was also looking at the Democratic Republic of Congo, Angola and Senegal.
Shares of Massmart jumped after the announcement, finishing up 1.8 percent at 141.35, below Wal-Mart's offer price of 148 rand a share. The rand currency also extended gains on the decision.
By Tiisetso Motsoeneng
(Additional reporting by Yumna Mohamed in Johannesburg and Bradley Dorfman in Chicago; Writing by David Dolan; Editing by Jon Loades-Carter)
© Thomson Reuters 2021 All rights reserved.