Spending on clothes, shoes lifts UK retail sales in May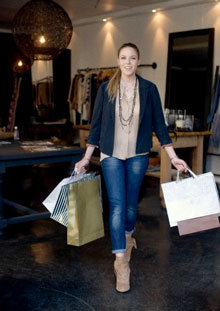 Photo: Corbis
British retail sales bounced back in May as shoppers splashed out on clothes and shoes, official data showed on Thursday.
Retailers' decent performance points to some resilience in consumer spending, which drives about 60 percent of Britain's gross domestic product.
The Office for National Statistics said retail sales volumes rose 1.4 percent on the month - a notch above economists' forecasts for an increase of 1.2 percent - to give an annual rise of 2.4 percent.
Retail sales had slumped in the wettest month of April on record, while low fuel sales following panic-buying in March due to a looming truck driver strike compounded the fall.
The ONS said the increase in sales last month was driven by a 3.4 percent monthly rise in sales of clothes and footwear. Shops such as department stores saw a monthly increase in volum es driven by discounting, taking the annual rise in sales to 11.3 percent - the highest since February 2000.
The annual rise in retail prices measured by the implied deflator eased to 0.9 percent - the lowest since October 2009, in line with the recent fall in consumer price inflation to 2.8 percent, also the lowest in two and a half years.
The Bank of England hopes that falling inflation will relieve the pressure on household incomes, allowing them to spend more and boost the economy.
The central bank itself has indicated that it stands ready to inject more cash into recession-hit Britain.
Business surveys had earlier painted an upbeat picture of the sector in May helped by warm and sunny weather, with a poll by the Confederation of British Industry showing that B ritish retail sales grew at their fastest pace in over a year.
Likewise, Dixons Retail, Europe's second-biggest electrical goods retailer, said on Thursday it made a good start to its new financial year beginning in May.
© Thomson Reuters 2023 All rights reserved.