Stores see busy, but not bang-up Christmas Eve
NEW YORK/LAS VEGAS - Retailers saw a steady flow of last-minute shoppers on Saturday, the day before Christmas, putting a moderate cap on a pre-holiday season that started with a bang and has since waned.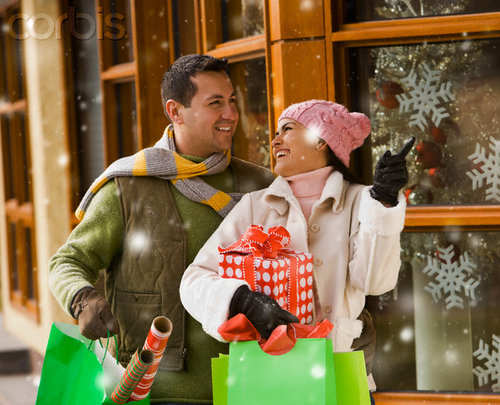 Photo: Corbis
Industry watchers are forecasting a stronger holiday shopping season than expected, fueled by deep discounts at the start of the season, unusually warm and dry weather, a late Hanukkah, and an extra shopping day.
On the last shopping day before Christmas, the scene at several malls in different parts of the country was busy, but neither shoppers nor retailers seemed overwhelmed.
"The last-minute Charlies have come out," said Marshal Cohen, chief industry analyst at the NPD Group. "Stores are busy, but not bustling."
The fact that Christmas Eve falls on a Saturday is good for retailers like Wal-Mart Stores, Best Buy and Gap Inc. So is the fact that the day after Christmas is a Monday, instead of a Sunday like last year, when many people stayed home and watched American football, said Ramesh Swamy, an analyst in Deloitte's retail practice.
"The calendar is working in our favor," Swamy said.
So is the fact that there was no blizzard this year, like there was last year.
Many stores around the country saw brisk traffic in the past week, and Friday was the busiest shopping day of the season, according to a survey of stores done by mall operator Taubman Centers Inc.
Sales at surveyed stores were trending up at a mid-single-digit rate for the week, on average, Taubman said, though luxury goods stores were trending up at high-single to double-digit rates.
Saturday caps a key week in the retail calendar that saw a handful of major U.S. store chains staying open around the clock to cater to consumers' late-night shopping craves, from Toys R Us Inc to Macy's Inc, a decision hailed by shoppers and industry watchers alike.
The National Retail Federation raised its forecast for holiday retail sales to a 3.8 percent increase from an October forecast of a 2.8 percent increase.
And ShopperTrak, which monitors traffic at shopping malls, now expects sales in November and December to rise 3.7 percent, up from its September forecast of 3 percent.
NOTHING TO WRITE HOME ABOUT
The Thanksgiving weekend, which marks the unofficial start to holiday shopping, saw sales soar 16.4 percent to $52.4 billion this year, the NRF said. The number of transactions at merchants jumped 17 percent on Black Friday alone, dwarfing the 5 percent gains seen in the prior two years, according to data from MasterCard Inc's network.
The binge was spurred by deep discounts, but they have since moderated, thanks to tighter inventory management by retailers who often would rather sell fewer items at full price than more items at profit-sapping markdowns.
"It isn't how much you sell but how well you sell it," said NPD's Cohen. "Retailers would rather sell out than sell off."
As a result, inventory on key gift items, such as sweaters, was quite low in many stores on Saturday, Cohen said, and the discounts were not that extreme.
One shopper, who only wanted to be identified as 67-year-old Bill V., was finishing up his holiday shopping at a Las Vegas-area Macy's store early Saturday morning.
Armed with several bags filled with gifts for his wife, daughter and grandson, he said the deals were not much to write home about.
"They were OK. They could have been better," he said.
Vickie Hoffman, a 39-year-old stay-at-home mom, bought some perfume and lotions at Victoria's Secret and an engraved snow globe for some last-minute gifts on Saturday.
"I didn't think so much of the sales this year," Hoffman said. "I didn't think there were many great deals. I just didn't see them."
Most of the steepest discounts on clothing on Saturday were for cold-weather coats, due to the mild weather this season.
A Macy's in suburban Las Vegas was offering 50 percent to 60 percent off women's winter coats, 60 percent off sweaters, 50 percent off slippers and fuzzy socks and 40 percent to 70 percent off purses.
Children's clothing chain Gymboree was selling all its merchandise, in stores and online, for $15.99 or less. Guess Inc had 50 percent off sweaters, outerwear and boots and teen clothing chain Aeropostale Inc had women's fleeces, originally $49.50, on sale for $18 and men's and women's jeans, originally $54.50, on sale for $25.
All retailers offer discounts to draw shoppers as part of their holiday strategy. But unplanned markdowns, as a result of poor sales, is what hurts profit margins.
On balance, margins are expected to be better this year than last, Cohen said, but January will be the key. That is when shoppers head to stores with returns or gift cards, often spending 16 percent more than the value of their credit, he said.
Some retailers' tactics included offering people store credit that they can use starting next week, as a way to get them back in the stores once the full-priced, spring merchandise hits shelves, Swamy said.
The weak economy has put a damper on consumer confidence, but shoppers' resilience has surprised the industry.
"There are still a lot of issues out there, including uncertainty in the economy," Swamy said. "But for whatever reason it didn't dampen people's holiday spirit.
(Reporting By Martinne Geller in New York and Lisa Baertlein in Las Vegas; Editing by Sandra Maler and Mohammad Zargham)
© Thomson Reuters 2023 All rights reserved.