Stores to ramp up closings and job cuts in early '09
By Karen Jacobs - Analysis
ATLANTA (Reuters) - Retailers can be expected to speed up a wave of store closures, restructurings and job cuts in the coming weeks, hoping to get a fresh start in early 2009 after more than a year of recession.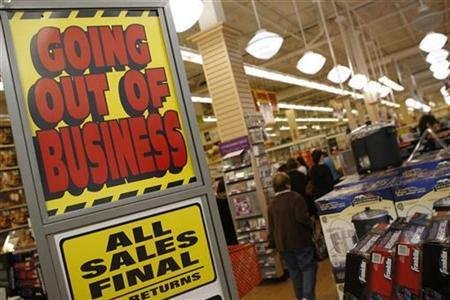 Many store chains have waited for the holiday shopping season to end before taking more aggressive steps, but will aim for more cost cutting by the close of their retail fiscal year in early January and throughout calendar 2009, economists and consultants said.
"We are going to see some shakeout in the retail industry and I think it's going to happen pretty quickly after the holidays," said Frank Badillo, senior economist with consultant TNS Retail Forward. "We'll see it in the form of store closings, mergers, acquisitions and bankruptcy."
The holiday shopping season, which largely occurs in the weeks between U.S. Thanksgiving and Christmas, is a crucial sales period for most retailers. This year the recession, job losses and a credit crunch are expected to yield the worst holiday sales in up to four decades.
Already, Circuit City Stores (CCTYQ.PK) is liquidating one-fifth of its U.S. stores as it reorganizes in bankruptcy. Many other retailers have also announced closures
Office Depot (ODP.N) plans to shutter 112 stores in North America in the next three months. Department store operators Sears Holdings (SHLD.O) and Dillard's (DDS.N) have closed stores, and Williams-Sonoma (WSM.N) and Select Comfort (SCSS.O) have signaled their intent to shutter underperformers in 2009.
Craig Rowley, retail practice leader at human resources consulting firm Hay Group, is expecting more store closure announcements before retail fiscal years end early next year. He said retailers will likely shed seasonal help and could also cut excess jobs at corporate headquarters.
"Retailers had such a difficult year and their stock prices are so low, every one is looking to take every expense they can in this fiscal year," Rowley said.
He said retailers are focused on positioning themselves for better times in 2010, pruning as much as possible now to meet lowered demand.
STANDOUT YEAR FOR STORE CLOSURES
As retail store closures go, 2008 is on pace to be a standout year. The International Council of Shopping Centers projects that 148,000 retail doors will be closed this year. That figure would be the highest number since the recession of 2001, when 151,000 stores were shut.
ICSC expects another 73,000 stores to close in the first half of next year.
"The retailers announcing closings are in all different stages," said John Connolly, ICSC research analyst. While bankruptcy and bad business conditions are to blame for many closures, "some retailers very well may have looked at this as an opportunity to retrench," he said.
This year, even healthy retailers shuttered their worst performers and curbed new store growth, following the lead of Wal-Mart Stores (WMT.N), which began trimming its expansion plans two years ago.
Home Depot (HD.N) closed 15 U.S. stores earlier this year and scrapped plans for 50 more that had been in its new-store pipeline. Best Buy Co (BBY.N) and Lowe's Cos (LOW.N) plan to open fewer new stores next year.
"For the level of consumer demand we see currently and will continue to see through 2009, the current environment clearly is overstored," said Badillo of TNS Retail Forward.
Some retail sectors such as home goods are bracing for harder hits in wake of the financial market crisis. Falling home prices led consumers to avoid furnishings purchases, contributing to the bankruptcy and liquidation of Linens 'n Things this year.
"If anything, the last two months are going to make people accelerate closings even more," said Jerry Epperson, a furniture industry analyst with investment banking firm Mann, Armistead & Epperson Ltd in Richmond, Virginia.
"The overheads are too expensive and the traffic right now is just not there."
Select Comfort, creator of the Sleep Number bed, last week said it would cut its headquarters staff in Minnesota by 22 percent and expects to close stores in 2009, including about 20 in its first quarter.
VENDOR RISK
By segment, apparel stores accounted for the largest share of 2008 store-closing announcements through the third quarter, at 26.4 percent, according to ICSC research. Jewelry was second at 18.1 percent.
That leaves clothing vendors particularly vulnerable when it comes to the wider effect on the supply chain.
In a research note, Credit Suisse analyst Omar Saad said clothing makers Jones Apparel Group (JNY.N) and Liz Claiborne (LIZ.N) could post per-share profit declines of 44 percent and 27 percent, respectively, in 2009 as a result of bankruptcies and store closures at retail partners.
"Department stores have consolidated but perhaps the vendors have not consolidated fast enough," Barclays Capital analyst Robert Drbul told reporters last week. "Perhaps that's another area that we could see consolidate into 2009."
(Additional reporting by Nicole Maestri in New York; Editing by Brian Moss)
© Thomson Reuters 2023 All rights reserved.