Strong and feminine woman prevails at Milan shows
By Marie-Louise Gumuchian
MILAN (Reuters) - Women's wardrobes will likely take on a strong, feminine look next winter, with sharp shoulders and a shiny feel prevailing at Milan fashion week.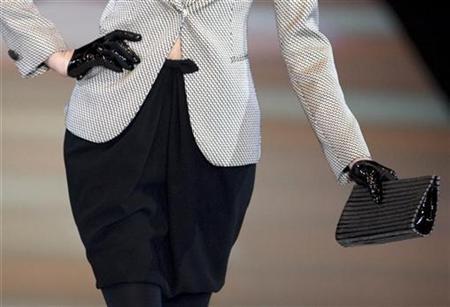 The strongest catwalk trend was a return to the 1980s for inspiration, following on from London and New York fashion week -- for a look to lift and defy the sombre economic climate.
"A strong shoulder is going to be an absolutely necessity for women and their wardrobes for the coming season ... and animal print really being led by leopard ... even in leggings," Ken Downing, fashion director at U.S. department store Neiman Marcus, said.
Like in New York, he noted an abundance of comfy knits.
Top name Giorgio Armani looked to update the 1980s look with shiny patent caps and long gloves, accessorising a feminine short jacket and elasticised trousers power suit.
He studded little black dresses with diamante and put sparkly beading on evening gowns. Boots were also embroidered.
Gucci's clothes were said to be rooted in the style of 1980s fashionplate Tina Chow. Black tops were offset with flashes of blue, purple and fuchsia pink while other fabrics were shiny and sparkly. Evening wear shimmered, with short crystal studded dresses and encrusted suits, some with animal prints.
Leopard prints were also seen at Anna Molinari's Blumarine line for flowing evening or short knit dresses and tiny jackets.
Fashion theory may state that when times get tough, hemlines drop but like several names at Milan's Autumn/Winter 2009/2010 shows, Molinari defied this, bringing up skirts and dresses mid-thigh and making them glisten with sparkling jewellery.
Designer duo Domenico Dolce and Stefano Gabbana took to the opera for inspiration for their D&G line, paying homage to opera singer Maria Callas. Velvet bustier dresses had very short puffball skirts, encrusted with colourful precious stones.
The Dolce & Gabbana line had coats, dresses and capes with puffed up shoulders, some with fox fur on them. Slim skirts were over the knee and the look was accessorised with headbands made out of leather gloves or larges bows, and suede platform wedges.
They stuck to mainly black and white, but added hot pink to a fur coat, as well as blue and gold touches to suits and shoes. For the evening, prints of Marilyn Monroe's face featured on silk white and black dresses, both long and short.
"WELL ANCHORED WOMAN"
Jackets, tailcoats and flowing dresses were part of the Angelo Marani look, with lace and gold shells over jeans. "It is a very determined look," buyer Chiara Merlini said.
There was a strong focus on shoulders. At Gianfranco Ferre, small waists and square shoulders dominated.
Several names chose very long boots that replaced trousers.
Declaring war on the crisis, Roberto Cavalli put suede zipped tight boots with steel heels under studded mini-dresses and skirts. Gucci boots were also over the knee and skin tight.
At Prada, waders -- complete with braces to hold them up -- were thigh-high, teamed with tiny tweed shorts which had the ends of red ribbed sweaters sticking out.
Bottega Veneta chose "strong and architectural" shoes.
"(The shoes) have sturdy heels for a woman that is well anchored, and very decided and knows what she wants," Creative Director Tomas Maier told Reuters.
Looking to the country, Miuccia Prada presented tweed suits, brought in at the waist, and tweed coats, split up the sides with no skirts beneath. She had gladiator-like dresses in burgundy, brown and black leather, with crystal studs.
Burberry Prorsum's had a romantic look -- simple white dresses, tweeds and tartans for the day and brocade dresses in soft gold with ruby red rose prints in the evening.
Versace, the last big name to hold a catwalk show, added flashes of silver to dresses and presented small jackets and tight, shiny trousers, and shapely belted coats. Donatella Versace chose an array of blues as well as pink, red and orange for her designs, and neutral taupe for longer gowns.
(Editing by Paul Casciato)
© Thomson Reuters 2023 All rights reserved.