Strong home shopping helps Next defy the gloom
Surging online sales helped Next , Britain's No.2 clothing retailer, offset a tough third quarter at its stores and keep its full-year profit forecast despite the gloom engulfing the retail sector.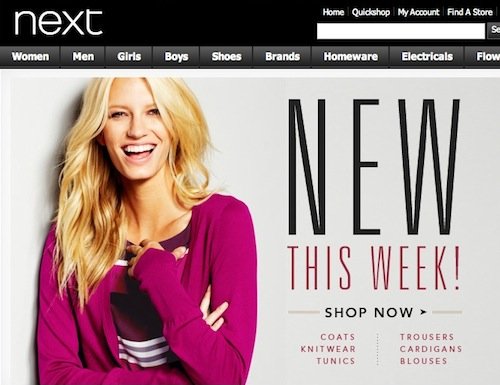 next.co.uk
Shares in Next rose nearly 4 percent, the second biggest rise by a European blue chip stock. , after the firm beat market expectations for total third quarter sales.
Chief Executive Simon Wolfson said he expected the UK consumer environment to remain subdued until the second or third quarter of 2012 but anticipated an uptick thereafter as inflationary pressures, particularly in cotton, ease.
"I don't see any dramatic change on the horizon unless something seismic happens in Europe," he said.
"There is the possibility of some potential upside when we're into comparisons against the very snowy (December) weeks last year," he added.
Unlike some of his peers, such as Home Retail CEO Terry Duddy, he believes any move by the UK government to ease its austerity drive and put more money into cash-strapped shoppers' pockets would be a mistake.
"It's all very well saying 'we want help', everyone wants the government to spend money on their little sector, but the reality is that any money the government (spends) has in one way or another got to come from the taxpayer," Wolfson, a prominent supporter of Britain's ruling Conservative Party who sits in the upper house of Parliament, told Reuters.
Next's total sales, excluding VAT sales tax, rose 3.3 percent in the three months to Oct. 29.
That compared with analyst forecasts in a range of down 0.3 percent to up 3.0 percent and first half growth of 3.2 percent.
Sales at its over 500 stores in the UK and Ireland dropped 3.3 percent, and were down around 8 percent excluding newly-opened shops. But this was offset by a 16.9 percent leap in sales at home shopping service Next Directory.
Wolfson attributed Directory's stellar performance to the introduction of next day delivery, improved stock levels and overseas sales, which contributed about 4 percent of the growth.
"A solid set of numbers by Next, with the Directory the key performer, evidencing the benefits of a multi-channel proposition in a period where the broader apparel market was weak, driven by the unseasonably warm weather," said analysts at Nomura.
British retailers are mostly struggling as shoppers' disposable incomes are squeezed by rising prices, muted wages growth and government austerity measures.
Those with strong internet businesses have been faring better, however, as time-pressed consumers take advantage of the convenience, and price transparency, of shopping online.
While overall British retail sales rose just 0.6 percent year-on-year in September, according to government data, online sales surged 15 percent, according to industry body IMRG.
Over 80 percent of Next Directory's business is conducted over the Internet.
MAY NOT BODE WELL FOR M&S

The weakness in Next's store sales may not bode well for Marks & Spencer , Britain's biggest clothing retailer, which reports first-half results next week and does not have such a big online business.
Liberum analyst Simon Irwin said that while Next's performance was better than expected overall, the industry could face a difficult few months because stock levels were generally too high and that could lead to heavy discounting.
Next forecast sales growth of 2.5-4.0 percent for the year ending January 2012, narrowed from its previous estimate of 2.0-4.5 percent, and pretax profit of 550-585 million pounds ($877-$933 million), compared with 545-590 million previously.
It also predicted earnings per share of 240-255 pence, growth of 8.3-15.2 percent.
Next said it remained confident it would not have to increase prices in the first half of its 2012/13 financial year and that the early indications were this trend would continue into the second half of that year.
Clothing retailers have been hit this year by a surge in the price of cotton, as well as higher labour costs in key manufacturing countries like China, and have been struggling to pass on those extra expenses to shoppers.
Shares in Next, which prior to Wednesday's update had outperformed the STOXX Europe 600 retail index by 49 percent, were up 95 pence at 2,652 pence at 1031 GMT.
© Thomson Reuters 2023 All rights reserved.