Supermodel Kate Moss launches last Topshop line
(Reuters Life!) - British supermodel Kate Moss celebrates the launch of her last seasonal collection for British retail chain Topshop on Monday with a party at its flagship London store.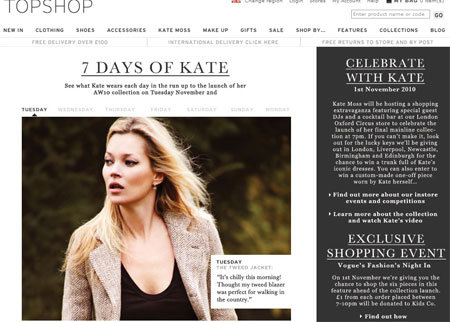 Kate Moss for Topshop
The "shopping extravaganza" at Topshop's Oxford Circus store will allow fans to buy the designs from the capsule collection of 1970s-inspired clothing ahead of the line's launch on Tuesday, Topshop told Reuters in a statement.
Moss and fans will also enjoy DJs, a cocktail bar and receive a collectible poster with every Kate Moss Topshop purchase.
Topshop will also distribute keys on Tuesday on the streets of London, Liverpool, Newcastle, Birmingham and Edinburgh to shoppers in a contest for a trunk of the model's dresses.
One lucky Moss fan will have the chance to win the custom-made outfit Moss wears at Monday's launch party by choosing a favorite piece from any of the Moss Topshop collections and revealing why.
The latest collection includes "Biba-esque" floral printed day dresses, shift dresses with cross stitch panels, a pair of midnight blue velvet hotpants, a black chainmail dress, a series of rings using semi-precious stones and 10 of the most popular sell-out pieces since the debut of Moss collections in 2007.
(Reporting by Paul Casciato, editing by Patricia Reaney)
© Thomson Reuters 2023 All rights reserved.