Sweden's H&M third quarter pretax seen rising despite retail gloom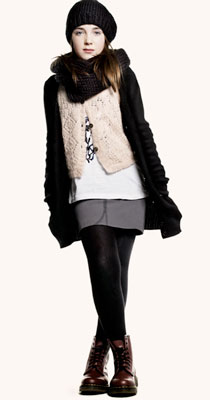 H&M collection autumn-winter 2009/2010. Photo : Peter Gehrke
STOCKHOLM, Sept 18 (Reuters) - Swedish fashion chain Hennes & Mauritz (HMb.ST) is seen delivering solid third-quarter earnings next week but analysts said margins could take a hit because of dollar strength earlier this year.

The world's third-biggest clothing retailer has fared better than many others in the global downturn thanks to its geographic spread and focus on high fashion at low prices.
Analysts, on average, see H&M posting June-August pretax earnings of 4.7 billion crowns ($681.2 million), up 3.5 percent from a year earlier, according to a Reuters poll.
Europe's clothing retailers have mostly had a tough time in the recession, and while there are signs the economy is improving, there are fears that consumers continue to hold back.
While H&M appears relatively resilient, shoppers have clearly tightened their belts, with sales in established H&M stores falling in 11 of the past 12 months.
In June and July, the first months of the firm's fiscal third quarter, sales were much weaker than expected, and analysts do not expect any pickup in August.
"Q3 was a disappointing quarter ... an unusually mild start of the autumn suggests that August will be no better," Carnegie analyst Niklas Ekman wrote in a research note on Sept. 2.
The mean forecast in the poll was for total August sales to rise 5.0 percent, while sales in stores open for more than a year were seen dropping 5 percent.
Germany, which accounts for a quarter of H&M sales, making it the retailer's biggest market by far, saw August apparel sales fall 5 percent, according to industry journal Textilwirtschaft.
MARGINS
H&M makes two-thirds of its purchases in dollars, and one worry is that the temporary strengthening of the dollar earlier this year would weigh on the third-quarter gross margin -- a key measure of profitability.
"We expect H&M's underlying gross margin to have dropped nearly 200 basis points during Q3, held down by significant negative currency effects," Carnegie wrote in the note.
Rolf Karp, an analyst at Ohman Fondkommision, said he did not believe H&M could top the gross margin of 60.8 percent from last year's third quarter. The mean forecast in Reuters poll is for a gross margin of 60.0 percent.
Karp also said markdown levels had generally been high in Europe and the United States.
"That does not benefit H&M. If you can buy a Ralph Lauren half off, maybe you'll choose that instead of H&M," Karp said.
"That could be one reason for sales being weak. But H&M might have chosen not to participate in the markdown race in order to keep margins at an okay level," he added.
Arch rival Inditex (ITX.MC), Europe's biggest clothing retailer and owner of fashion chain Zara, reported better-than-expected results this week, helped by cost control.
(Editing by Lin Noueihed)
© Thomson Reuters 2023 All rights reserved.