Swiss watchmakers look to autumn with cautious hope
PLAN-LES-OUATES, Switzerland, Aug 27 (Reuters) - Swiss watchmakers are preparing for the crucial pre-Christmas period with cautious optimism, viewing an uptick in demand as a sign that the crisis may finally be over.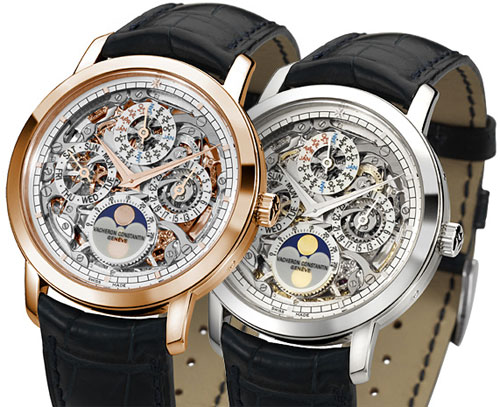 Watches from Vacheron Constantin, a Richemont timepiece brand
Industry leader Swatch Group (UHR.VX) has said that retailers are ordering again, the decline in Swiss watch exports eased in July and sector specialists generally sense more optimism than there was six months ago.
Analysts are eyeing low-single digit growth in Swiss watch exports in 2010 after a fall of between 15 and 20 percent this year.
"We expect that the figures at the end of the year will be better than the first seven months," Jean-Daniel Pasche, president of the Federation of the Swiss Watch Industry told Reuters. "The decline in exports is easing."
"Watchmakers are noting a recovery in certain markets such as Asia and the Middle East," Pasche said.
Switzerland's watch industry, which accounts for 7 percent of Swiss exports, has been grappling with its sharpest downturn since the late 1970s, when cheap Japanese quartz watches threatened production of Swiss mechanical and quartz watches.
Swiss watch exports have fallen steadily since last October, but July's drop of 26 percent after a 32 percent fall in June raises hope the downturn has reached the bottom.
The value of watches exported in July was 1.19 billion Swiss francs, compared with 1.08 billion francs in June.
Luxury watches, bought mostly by men, have been hit hard by the crisis, which has claimed the jobs and bonuses of thousands working in the financial sector, cutting people's ability to buy or sapping their desire to spend on big ticket, non-essential items.
However, climbing stock markets and commodity prices may help boost spirits and spending power.
"Important markets like the Middle East and Russia are dependent on commodity prices and these have also risen," Sarasin analyst Patrick Hasenboehler.
Swatch Group, which owns Omega, Tissot and Longines brands as well as high-end marques like Breguet and Blancpain, said current order entries were showing signs of recovery and some brands should post a rise in sales in the second half.
Philippe Stern, chairman of Patek Philippe, one of Switzerland's last independent watchmakers, told Reuters last week he expected sales to be slightly higher in 2009, helped by sustained appetite for its most expensive watches.
GROWING APPETITE
High-end watchmaker Parmigiani Fleurier, whose sister company, Vaucher Manufacture Fleurier, makes movements for such groups as Hermes (HRMS.PA) and Bulgari (BULG.MI) has also seen an increased appetite for watches.
"Things are really picking up and have been doing well over the last two weeks," Parmigiani Chief Executive Jean-Marc Jacot told Reuters. "The retailers have to do something now about their stock levels. They have been selling watches for the last three months without reordering."
At Patek Philippe in Plan-les-Ouates, outside Geneva, hundreds of artisans are still polishing tiny cogs and pins as if the crisis never happened.
Patek Philippe, Swatch Group, Richemont (CFR.VX) -- whose brands include Cartier, IWC and Vacheron Constantin -- have retained skilled watchmakers to be ready for an upturn.
"We were prepared for the crisis. Some other brands didn't have the necessary reserves. But we did," Patek Philippe Vice-Chairman Thierry Stern told Reuters.
Swatch Group has said it would rather take a hit to its profitability than lose watchmakers that take years to train so it can fulfil orders when they pick up.
"If you look at the number of workers companies like Franck Muller took out and compare this to Swatch Group, which has kept all its skilled workers on its payroll, then it's clear that when we see a rebound then Swatch Group will emerge as a winner," Sarasin's Hasenboehler said.
(By Katie Reid. Additional reporting by Silke Koltrowitz; editing by Astrid Wendlandt and Karen Foster)
© Thomson Reuters 2023 All rights reserved.