Tale of two cities in battle for jobs
By Andras Gergely and Gareth Jones
LIMERICK, Ireland/LODZ, Poland (Reuters) - Limerick's mayor John Gilligan has a warning for the Poles who last month scored a foreign investment coup at his city's expense: beware, you may suffer the same fate in a few years.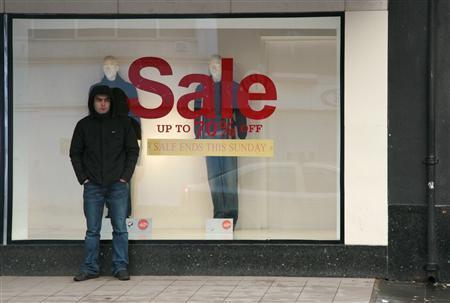 In the city dubbed Ireland's "Stab City" for its gangland murders, the official is still fuming over a decision by Dell, the world's No. 2 PC maker, to move its European manufacturing base away to Lodz in fellow European Union member Poland.
Dell's move, cutting 1,900 of 3,000 jobs at its Limerick plant in Ireland's southwest, aims to benefit from lower costs in Poland where the minimum wage is one-fifth of Ireland's.
It also suggests a symbolic reversal of one of the signature trends of early 21st-century Europe: Poles and other East Europeans flocking in millions to work in the fast-growing service and construction industries of the West.
Up to 2 million Poles are believed to have sought work abroad since Poland joined the EU in 2004, but a poll in Ireland in November indicated a third of its estimated 200,000 Polish immigrants planned to leave within a year.
Commenting on Dell's decision, spokesman Rafal Branowski said a factor was the Polish city's proximity to markets in central and eastern Europe, which he said are likely to resume rapid growth after the recession.
The European Commission is also investigating 52.7 million euros (46.9 million pound) in aid Poland gave to Dell's Polish unit.
It's all particularly galling for Limerick, to some extent already bypassed by the boom when Ireland was known as a "Celtic Tiger." Now Ireland's economy is expected to contract by 4 percent in 2009 in its worst recession on record.
"I am very, very bitter about this," Gilligan said. But he noted wage levels in Poland -- a European Union member since 2004 -- are converging with those in Western Europe.
"Dell will probably head for Ukraine in six to eight years' time."
HUNGER AND ALCOHOLISM
Limerick, made famous by the book and film "Angela's Ashes" chronicling the poverty, hunger and alcoholism endemic in the slums where author Frank McCourt grew up, depended on Dell. Besides the factory, it has a university and nearby Shannon airport, a trans-atlantic gateway, brought some business.
"We were over-reliant on Dell. We shouldn't have put all our eggs in one basket," said Gilligan.
Nonetheless, he said Ireland -- Limerick included -- could still not compete on cost with East European countries.
"We have no intention of going back to being a peasant people. We're not a peasant people," he told Reuters.
According to a government report in 2007, Limerick had a uniquely high concentration of social housing: 42 percent of 18,900 city centre houses were built as social housing. Unemployment in deprived pockets was five times the national average, with a high proportion of one-parent families and educational attainment well below the national norm.
"Violent crime, related both to gang rivalry and drugs, is now a very serious issue and is gradually extending over wider areas," the report said.
In Lodz (pronounced "Woodge"), the mood is far from triumphalist: Poland's third largest city was itself also once a byword for poverty and post-communist racketeering.
Reliant in the past on textiles, Lodz's unemployment rose to nearly 30 percent in the 1990s after it was flooded with cheap Chinese imports and state investment fell off.
With rising prosperity, officials in the city are keenly aware that Poland's labour costs are growing, and with them the danger that its competitiveness will wane.
"We are aware that Dell moved here from somewhere else. And they could leave Lodz one day, just as they have left Limerick," said Marek Cieslak, president of the board of Lodz special economic zone which offers tax incentives to foreign investors.
BUSINESS HUB
The industrial city of 750,000 people 135 km (84 miles) southwest of Warsaw has transformed itself through an ambitious urban renewal programme into a major business hub, attracting international companies such as Siemens, Procter and Gamble, Infosys, Hilton and Fujitsu, as well as Dell.
"Our clients say 'this is the best place in Europe, thank God for Poland'," said Warren Landers, an Irish property consultant based in the city.
Unemployment in Lodz is 6 percent, although local officials say that is expected to edge up to 9 percent, mirroring the national trend as economists expect Poland's growth to slow to less than 2 percent this year.
Lodz has benefited from diversification. Cieslak identified information technology, pharmaceuticals and cosmetics as areas likely to show strong growth and stressed the benefits of its pool of 120,000 university students.
There is also genuine optimism: in Manufaktura, for example, is a 200-million-euro investment built on the site of a former textile mill that includes cinemas, restaurants, bars, discos and museums.
"We don't feel any slowdown in business at the moment because of the global recession," said its director Slawomir Murawski, forecasting visitor numbers this year would rise by 5 percent from nearly 19 million people, and turnover by 10 percent from 600 million zlotys in 2008.
A new motorway linking Lodz to Germany should also be ready in time for the Euro 2012 soccer tournament which Poland is due to co-host with Ukraine, he said.
Poles shopping in the city on an icy winter's day welcomed Dell's move, somewhat wryly.
"This is a great opportunity for Lodz," said Przemyslaw Kuszarek, 25, who recently became unemployed. "When the textile industry left Lodz for China, nobody kicked up a fuss."
Back in Limerick, residents facing job losses refer to a fighting spirit they say has helped in past crises and will see them through this one.
"So many companies did so well here. Dell is a great example," said Mike Boland, whose organisation helps young people from the Northside area of Limerick with many poor, crime-ridden neighbourhoods: "Limerick has proven that it is able to work within the global market. I don't think there is any reason it won't do that in the future."
(Writing by Gareth Jones; editing by Andrew Dobbie and Sara Ledwith)
© Thomson Reuters 2022 All rights reserved.