The CFDA's Prize Winners at Paris's Fashion Week
From October 1st to October 3rd, the Joyce gallery will host the "Américains à Paris" initiative. Launched by the Council of Fashion Designers of America (CFDA) and Vogue and backed by Tommy Hilfiger, the event will take place during Paris's Fashion Week and highlight the talents of six young U.S. designers.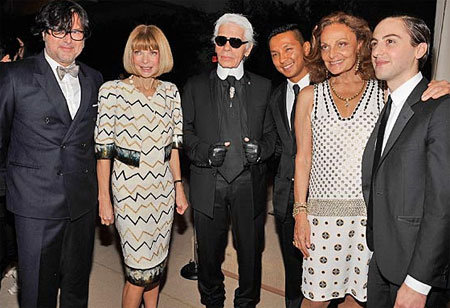 From left to right: the winner Billy Reid, Anna Wintour, Karl Lagerfeld, Prabal Gurung, Diane von Furstenberg and Eddie Borgo. (c) Gary Gershoff for WireImage
Christened "Americans in Paris", the showroom located in the gallery of the Palais Royal aims to generate media coverage as well as provide marketing support and a sales team dedicated to the ten designers present. These were: Billy Reid (2010 winner, women's ready-to-wear), Prabal Gurung (2011 winner, second place women's ready-to-wear) and Eddie Borgo (2011winner, jewelery - Tiffany & co award), George Esquivel (2009 nominee), Gregory Parkinson (2010 nominee), Monique Péan (2011 winner, jewelery - Tiffany & co award), Ohne Titel (2011 nominee), Pamela Love (2011 nominee), Simon Spurr (2009 nominee, men's ready-to-wear), Sophie Théallet (2009 winner, women's ready-to-wear).
Founded in 2003, the CFDA/ Vogue Fashion Fund aims to support emerging designers working in the U.S.. Each year, the CFDA/Vogue Fashion Awards give out cash prizes and management support by industry professionals (such as Mark Lee, Domenico de Sole, etc.). Since 2010, the first prize has been a $300,000 dollars (with a possible additional $100,000) while the two "tie" places receive $100,000 dollars each. Since its inception, the program has awarded a total of $2.3 million. In addition to the aforementioned winners, it has produced winners such as Alexander Wang, Doo-Ri, Proenza Schouler, 3.1 Phillip Lim, Derek Lam, Philip Crangi, Rodarte, Thakoon, Thom Browne and Vena Cava.
Copyright © 2022 FashionNetwork.com All rights reserved.