The Italian shoe fair MICAM intends to create an international presence
"Micam in the world," is the name of a project now in the works at the National Association of Italian Footwear Manufacturers (ANCI) whose aim is to export overseas editions of the international shoe fair Micam held twice a year in Milan in March and September, the industry leader of such events, counting nearly 40,000 visitors and 1,600 exhibitors.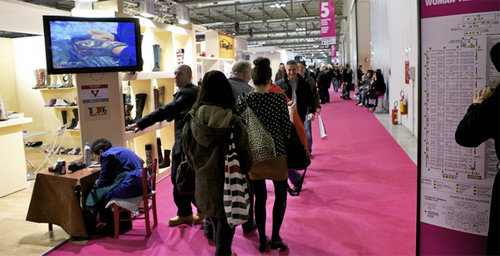 Micam intends to go global
"This project will commence next year. Immediately after the Micam in Milan, we would like to organize a Micam in Shanghai in April, then follow up in subsequent years with a Micam fair in Moscow and one in New York, creating one date for each season or two per year in each city," said Cleto Sagripanti, the president of ANCI.
Today, the association organizes some twenty group events abroad known as "Shoes from Italy" with the participation of some sixty Italian brands around the world, from Kazakhstan to Kiev, to Tokyo, Beijing, Hong Kong and, for the first time in May, in Johannesburg, South Africa.
The other strategic meeting for Italian footwear is "Obuv Mir Kozhi" held in Moscow. Until recently, these events were financed with aid from the government through the Italian Institute for Foreign Trade (ICE). With the disappearance of this support last year, ANCI has decided to focus on an actual event and one with greater visibility.
"The challenge is to transform these group events into a model linked to the Milan fair Micam. The idea is to collect at least 150 participants with Italian companies front and center, as in the current Micam and Foreign brands that are also positioned in the medium to high end segment. There is already demand from Spanish and Brazilian brands," said Fabio Aromatici, CEO and general manager of Micam ANCI.
"It is out of the question for us to try to fit into an existing trade fair like the Italian textile Milano Unica did recently in China by bringing together 95 Italian brands in a pavilion built within Intertextile Beijing. Micam China will have its own fair in Shanghai. We are trying to decide between two or three possible locations. We chose Shanghai because we want to tackle first China as a whole. We will evaluate at a later stage the possibility of organizing a Micam in Hong Kong to address the rest of the Asian market," concludes Fabio Aromatici.
Copyright © 2023 FashionNetwork.com All rights reserved.