Top stores outshine rivals in tough markets
LONDON (Reuters) - Some of Britain's biggest retailers sent out a warning to smaller and weaker rivals, saying their scale and cost-cutting potential would help them to cope better with a worsening consumer outlook.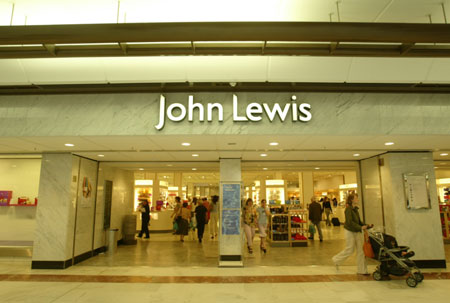 John Lewis store at Brent Cross, London
With British shoppers having to adjust to the new reality of tax rises, welfare cuts and reduced public spending to rein in record debt, the larger retail players look likely to emerge stronger in the months ahead.
John Lewis, the employee-owned group often seen as a bellwether of retail spending, said it was confident its eponymous department stores and upmarket grocery chain Waitrose would continue to grow ahead of the market after a 28 percent jump in first-half profit.
"While we expect the market to continue to be quite difficult and certainly there are some stronger headwinds coming, we don't think we're in double dip territory," Chairman Charlie Mayfield told reporters, echoing comments from Simon Wolfson, CEO of fashion retailer Next on Wednesday.
Kingfisher, Europe's No.1 home improvements group, said its ability to cope was underscored by a forecast-beating 23 percent rise in first-half profit, while electricals group Kesa topped forecasts with a 4.3 percent rise in underlying first-quarter sales, with trade boosted by robust demand for TVs ahead of the soccer World Cup.
Both Kingfisher and Kesa, which run the B&Q and Comet chains in Britain respectively, also benefit from large businesses in France, where consumer spending has been more stable.
Shares in Kingfisher were up 2.7 percent at 224.8 pence by 11:40 a.m. British time, while Kesa shares were up 0.8 percent at 136.5 pence.
The general retail share index, which has lagged the broader market by about 12 percent this year, has climbed 3.2 percent this week, outperforming a 1 percent rise on the FTSE-All Share index.
Official data showed retail sales volumes fell 0.5 percent in August, surprising analysts who had forecast a modest rise after several months of resilient growth.
The data could signal that consumer demand is slipping ahead of planned government spending cuts set to be announced on October 20 and will add to worries the austerity measures may derail a fragile economic recovery.
"The slowdown started to show in August with subdued consumer confidence finally filtering through to the High Street. The environment is likely to get tougher with next month's Comprehensive Spending Review weighing heavily on household purses," said Richard Lowe, head of retail and wholesale at Barclays Corporate.
THE BENEFITS OF INVESTMENT AND DELIA SMITH
John Lewis is reaping the benefits from investments which continued through the recession, such as in its fashion and online business and in new store formats for Waitrose.
Waitrose's performance was also boosted by the success of a marketing campaign featuring celebrity chef Delia Smith.
Pretax profit climbed to 111.2 million pounds in the six months ended July 31, and sales were up 9.9 percent in the first six weeks of the second half.
Kingfisher said it was also benefiting from investments in new products, such as a space-saving eco-toilet with a built-in washbasin, as well as a drive to buy more products centrally, and directly, from cheaper manufacturing centres like China.
Its underlying pretax profit reached 354 million pounds in the six months ended July 31.
This resilience was echoed by homewares chain Dunelm, which said market share gains helped fuel a 46 percent jump in annual profit to 76.8 million pounds, and Booker, Britain's biggest cash and carry wholesaler, which posted a 6 percent rise in second-quarter sales.
But illustrating how smaller operators face a bleaker future was Scottish dairy group Robert Wiseman Dairies. Its shares lost over a quarter of their value as the firm warned on profits, blaming intense competition.
(Additional reporting by Victoria Bryan; Editing by Michael Shields)
© Thomson Reuters 2023 All rights reserved.