UK retail sales fall for first time since Jan
LONDON, Sept 16 (Reuters) - British retail sales fell unexpectedly in August for the first time in seven months, in a sign the recovery may be stalling even as some of the country's biggest stores announced jumps in profits.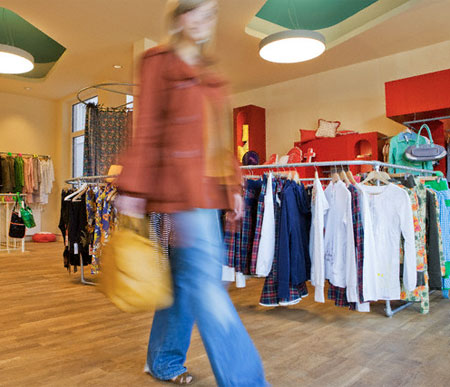 Photo : Corbis
The Office for National Statistics said on Thursday that sales volumes fell 0.5 percent last month, defying expectations of a 0.3 percent rise and raising concern that waning consumer confidence is beginning to dent retail demand even before next year's planned VAT and income tax hikes.
Still, retail bellwether John Lewis [JLP.UL] posted a 28 percent jump in its results for the six months to July 31. Kingfisher (KGF.L), Europe's largest DIY retailer, which owns 330 stores in the UK, saw its profits jump 21.9 percent.
But both economists and retailers warned that the recovery from the worst recession since World War 2 may already have peaked. Data on Wednesday showed the first rise in the number of people out of work and claiming benefits since January.
"August's fall in retail sales could be the first sign that the surprising resilience of consumer spending could be coming to an end," said Vicky Redwood at Capital Economics. "The pressures on consumers are clearly mounting."
Bank of England policymakers remain on alert over whether they may yet to have put more stimulus into the economy despite inflation that is well above its 2 percent target.
A BoE survey on Thursday showed inflation expectations hitting a two-year high in August, suggesting above-target price rises are starting to become embedded in consumer psychology.
Sterling GBP=EURGBP= hit session lows against the euro and the dollar after the ONS report, which also showed hefty downward revisions to July's figures.
STILL ILL
Analysts expect the UK economy to outgrow the euro zone next year, but the recovery remains fragile with consumers and companies awaiting details next month on promised cuts of 25 percent or more in the budgets of most government departments.
Results of UK retailers have generally started to improve following last year's recession, but many experts think the sector faces a harsh winter.
John Lewis said trading conditions would likely get tougher as tax hikes and spending cuts hit shoppers, as it reported a 28 percent rise in first-half profit.
Kingfisher (KGF.L) beat first-half profit forecasts, helped by cost-cutting and business improvements. But it too saw tougher times ahead.
"The immediate outlook for consumer spending is fragile, particularly in the UK where it is likely to remain challenging for some time," said Kingfisher Chief Executive Ian Cheshire.
The ONS numbers showed falls in sales volumes in August were broad-based, with food, fuel, clothing and household goods all suffering a setback.
Separately, the Confederation of British Industry's monthly survey showed British factory orders fell in September, contrary to expectations, but it also saw inflationary pressures picking up.
"The outlook for manufacturing activity seems to have held steady this month. Demand is still considered to be better than it was in the first half of the year, export order books are holding up reasonably well and expectations for production growth in the coming quarter remain solid," said CBI chief economic advisor Ian McCafferty.
"For the second month running, however, inflationary pressures appear to have picked up, as manufacturers anticipate a slightly faster rise in output prices over the next three months."
(Editing by Patrick Graham)
© Thomson Reuters 2023 All rights reserved.