UK retailers going bust jumps 38 percent in quarter
LONDON - The number of British retailers going bust jumped 38 percent to 670 in the first quarter of 2012, up from 486 in the fourth quarter, as the country slumped to a double dip recession, according to a survey from accountancy firm Wilkins Kennedy.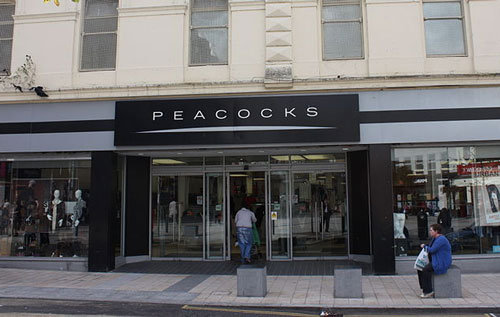 Peacocks in Derry, Northern Ireland / Photo: Ardfern
"Last year was bad but this year is even worse. Retailers are still struggling with rents that they feel are far above the market rate and banks are particularly reluctant to extend credit to struggling retail businesses," said Anthony Cork, a partner at the firm.
"The double-dip has pulled the retail sector down sharply. It is hard to see consumer spending rebounding in the current environment of slow wage growth and worries over the Eurozone."
High profile casualties in the first quarter included discount clothing retailer Peacocks, video games seller Game and cards and gifts retailer Clinton Cards.
Official data last week showed UK retail sales fell at their fastest rate in more than two years in April, while GDP numbers showed Britain fell even deeper into recession than initially thought in the first quarter.
Many UK retailers are struggling as shoppers are squeezed by prices rising faster than wages and government austerity measures. Consumers are also worried about job security, a shaky housing market and fallout from the euro zone debt crisis.
© Thomson Reuters 2023 All rights reserved.