UK stores see "appy" Christmas in the gloom
LONDON - Mobile phone applications that allow online shopping on the move could give battered British retailers something to cheer about in what is otherwise set to be one of the toughest Christmas trading periods for years.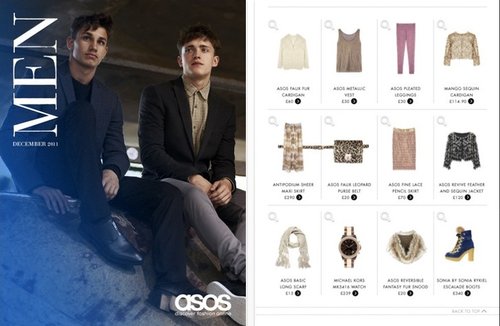 Asos application for iPad
As the festive shopping season gets into full swing, demand for these mobile apps is growing fast, even though overall consumer purchasing is under severe pressure from high inflation, muted wage growth, fears over job security and government austerity measures.
"Mobile technology is changing the game this Christmas. The power is now well and truly in the hands of the consumer who will be dictating when, where and how they want to shop," said Natalie Berg of research group Planet Retail.
As the British sector becomes increasingly "multichannel," retailers such as Argos, Debenhams and ASOS are tapping into the growing popularity of mobile shopping in general and, in particular, mobile phone apps.
Research by IMRG, the British trade body for online retailers, found 24 percent of consumers have used their smartphone to access websites while out shopping.
It reckons Christmas 2011 will be the year when mobile shopping goes mainstream.
Its research found sales through mobile phones leapt from 0.4 percent of total sales at the beginning of 2010 to 3.3 percent in the second quarter of 2011, not least because retailers are increasingly embracing apps.
Apps offer convenience, allowing shoppers to shop virtually anywhere, and at anytime, from the palm of their hands.
"Within an app, consumers have greater control over setting their own preferences, so more personalization," said IMRG's Andy Mulcahy.
"Apps can be used offline and can utilize multiple mobile device capabilities, such as GPS, voice, camera, calendar and address book."
RAPID GROWTH
High street catalogue retailer Argos, owned by Home Retail, had a torrid first half to end-August with total sales slumping nearly 8 percent.
But the launch of a web platform for mobile devices and an app for Android phones, along with its existing Apple iPhone app, led to rapid growth of mobile shopping and at the end of the period the proportion of Argos' total sales from mobile shopping was about 4 percent, up from 1 percent a year ago.
"As we go into this Christmas I think that's going to continue to grow," said Home Retail Chief Executive Terry Duddy.
"I think it's potentially quite exciting. It suits our model (and) it clearly suits our customers who are shopping on the move. With the penetration of smartphones I think we're going to head towards a sort of double digit number some time or other."
ASOS, the fast-growing youth fashion Internet retailer, first launched ASOS mobile a year ago and in the summer added a range of apps for Apple mobile devices.
Currently some 10 percent of its traffic is through mobiles.
"I would be amazed if it (mobile shopping) wasn't between 20 and 30 percent of our sales within the next three to five years," said Chief Executive Nick Robertson, who plans to develop local language versions of ASOS's mobile sites and apps in the future to complement its local language websites.
Debenhams, Britain's second-largest department store group, sells its products through iPhone, iPad, Android and Nokia apps.
"It's very early days but we're evidently embracing new technology and new ways for people to shop because we see that as one of the growth strands going forward," said Chief Executive Michael Sharp.
(Reporting by James Davey, editing by Mark Potter)
© Thomson Reuters 2023 All rights reserved.