Ultra-rich consumers are India's new maharajas
NEW DELHI, Oct 14, 2007 (AFP) - Grand extravagance is back under a new Raj of ultra-rich Indians who are splurging more and more as the world's top luxury brands rush for a piece of the huge Indian market.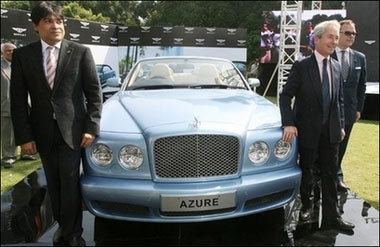 A Bentley car on display in New Delhi - Photo : AFP
The parallel between the life of princely India left behind at independence and the new wealth from one of the globe's economic hotspots was on full display when Bentley launched two new models in New Delhi last week.
It might seem obscene in a country still plagued by poverty, malnutrition and illiteracy, but there is no shortage of Indians prepared to shell out for the best money can buy.
"India has the highest number of billionaires in Asia," author Shashi Tharoor writes in "The Elephant, The Tiger and The Cellphone", due to be published later this month.
Paradoxically, he notes, it also has more people living in neglect and children who have never seen the inside of a classroom than any other country.
The super-rich roll-call includes far more than the well-known likes of steel tycoon Lakshmi Mittal, Reliance brothers Mukesh and Anil Ambani, industrialist Aditya Birla or Wipro's Azim Premji, who lead the 30-odd Indian dollar-billionaires on the Forbes magazine list.
Merrill Lynch and Capgemini's 2007 wealth report found India also had more than 100,000 millionaires, growing at an annual rate of more than 20 percent.
"You could call them the new maharajas of India," Ian Gorsuch, Bentley director for Middle East, Africa and India, told AFP.
"In our early years many Bentleys were built for the maharajas and elite of India society. Today's new maharajas may have a Bentley at their house in London or Monaco but they want one in India as well," Gorusch said.
He sold 30 such cars in India last year and expects to do the same this year and next. That's a higher figure than expected and the maximum possible.
"The Bentley factory is at its full capacity," said Gorsuch, boasting that the only growth will be in the waiting list.
French luxury brand LMVH has made a direct link with the old maharajas, not just by tying up with the son of the last ruler of Kashmir, but also displaying a grand trunk Louis Vuitton made especially for the maharaja in their swank shop at the Oberoi Hotel.
Such boutiques businesses report 50 percent annual growth riding on a booming Indian economy that is expanding at nine percent.
The forecourts of five-star hotels are littered with top-end cars worth far more than most Indians will earn in a lifetime.
Two Lamborghinis are regularly parked outside New Delhi's Hyatt, while Bentleys frequent the Oberoi. Porsches have become commonplace since India started allowing car imports just six years ago.
Ironically, while the new maharajas splurge on prestige marques, former colonial ruler Britain has slipped back in the pecking order.
British ambassador Dickie Stagg has to settle for a German-made limousine these days. The high commission (embassy) tradition of riding a vintage Rolls Royce around New Delhi ended a couple of years ago.
Stagg let Bentley use the grounds of his grand colonial-era residence on Friday as the carmaker celebrated four years in India, but the envoy was reduced to a tongue-in-cheek public request for a free loan of a limousine for a weekend spin.
Some see danger in such luxury amid a sea of deprivation.
Prime Minister Manmohan Singh has repeatedly called for the rich to tone down their excesses.
He regularly laments that India's raft of problems sit ill against the incredible wealth of a tiny minority among 1.1 billion people.
Singh warns it is a toxic mix that the teeming millions who live on less than a dollar a day are not willing to accept indefinitely.
"The time has come for the better-off sections of our society... to understand the need to make our growth process more inclusive, to eschew conspicuous consumption," Singh said in June.
But the rich continue to flaunt it while Indian media imitate the West with magazines on how to spend it -- from the Hindustan Times' "Splurge" to India Today's "Spice" and Outlook's "Envy".
Five-star hotels report near full occupancy rates despite room rates above 300 dollars a night. Top city restaurants are packed although an average dish costs more than the monthly wages of hundreds of millions in the hinterlands.
But India's pot-holed and bumpy roads offer the poor some comfort. It is nigh impossible to find a few hundred yards of decent surface along which to drive a high-performance car at even half its top speed.

By Barry Parker
Copyright © 2023 AFP. All rights reserved. All information displayed in this section (dispatches, photographs, logos) are protected by intellectual property rights owned by Agence France-Presse. As a consequence you may not copy, reproduce, modify, transmit, publish, display or in any way commercially exploit any of the contents of this section without the prior written consent of Agence France-Presses.