US company to buy distressed Ferre fashion house
MILAN (Reuters) - Italy has cleared the sale of distressed Italian fashion house Gianfranco Ferre, one of Milan's top designer names, to U.S. private equity firm Prodos Capital, parent company IT Holding said in a statement on Wednesday.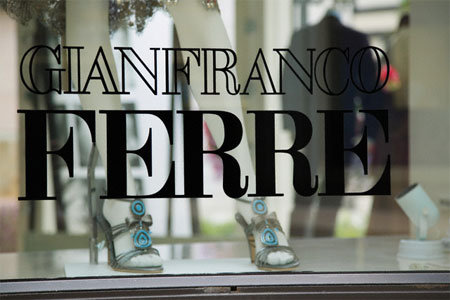 Gianfranco Ferre, Rodeo Drive
Founded in 1978 by late Italian designer Gianfranco Ferre, the debt-laden maison known for its "architectural" suits became one of the casualties of the financial crisis last year.
Like IT Holding ITH.MI, Ferre was put under extraordinary administration, a form of bankruptcy protection for distressed companies in which a special administrator is appointed by the government to run the company.
"(Italy's) Industry Ministry has approved the sale. An official statement is expected soon," the statement said.
Italian group Albisetti, which makes underwear for fashion house Cavalli, is to take over Ittierre, another of IT Holding's units that makes and distributes clothes for lines such as Just Cavalli and Galliano.
IT Holding had debts of around 1.2 billion euros ($1.65 billion) when it was admitted to bankruptcy protection in February 2009.
Italian media reported Ferre had drawn offers of around 15 million to 16 million euros.
The company did not disclose financial details.
Italy's Mediobanca (MDBI.MI) and Sinergetica advised the operation.
Ferre is one of the few big Italian fashion names to have fallen into foreign hands in a mainly family run industry.
Past cases include France's PPR's (PRTP.PA) Gucci and Italian fashion brand Valentino, which is controlled by private equity group Permira [PERM.UL].
Italian group Exa bought It Holding's Malo cashmere brand in August for about 8 million euros, with the aim of launching a new collection in January and break-even by 2013.
Several fashion houses, such as Christian Lacroix in France and Mariella Burani Fashion Group (MBFG.MI) in Italy, fell into financial difficulties last year, when the luxury-goods industry suffered its worst slump in decades.
($1=.7281 Euro) (Writing by Antonella Ciancio; Editing by Louise Heavens and Maureen Bavdek)
© Thomson Reuters 2023 All rights reserved.